Big firms face crisis of trust, business lobby group says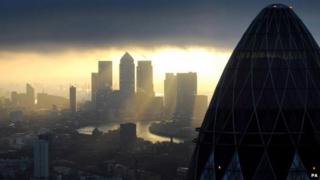 Big UK firms face a "crisis of trust" and the next government must prioritise better ethics, a lobby group has said.
In a survey, the Forum of Private Business (FPB) found that over three-quarters of respondents think big firms put profits before ethical standards.
Tax avoidance, treatment of suppliers, and late payment were all areas of concern, the ComRes poll of 2,000 people found.
Politicians must stand up for people who play by the rules, the FPB said.
The survey also found that 74% of respondents agreed that the majority of big businesses have no concern for small business owners in the UK.
And 76% agreed that the next government should penalise big businesses that act unfairly towards small businesses.
The survey commissioned as part of the FPB's Business Ethics Pledge, calls on big companies to commit to a five-point plan to protect and promote small firms in the UK.
FPB chief executive Phil Orford said: "The view of the British public is clear: we are facing a crisis of trust in big business and the UK wants the next government to respond accordingly, safeguarding the UK's small business community.
"From tax avoidance and high street domination to late payment and supply chain abuse - every week our members tell us that some of the biggest names in British business are threatening their livelihoods."
'Honest workers'
Criticism of the activities of big companies has risen sharply in the last couple of years. Allegations of tax avoidance, deliberately forcing firms out of business, and squeezing suppliers with demands for money, have formed headline news.
Mr Orford said: "There must be a balance between the need to attract the world's biggest companies to Britain, ensuring we have the best environment for business, and protecting the interests of the UK's hardworking independent small business people.
"It is time for Britain's honest workers who play by the rules to have their say and it's time for their interests to be heard."
Last week, the Archbishop of Canterbury, Justin Welby, joined the debate over business ethics, arguing that big companies should consider how they could better use their powerful positions to support society.