UK trade deficit last year widest since 2010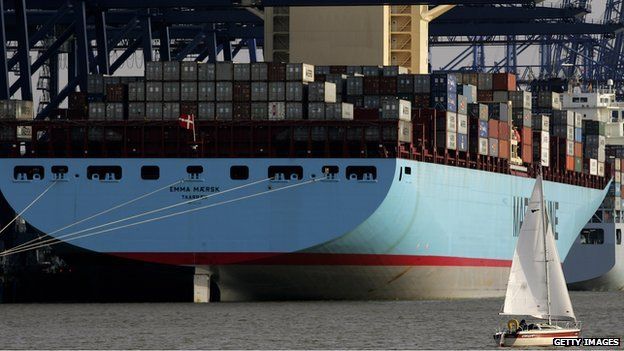 The UK's trade deficit widened last year to £34.8bn, the biggest gap since 2010 according to the Office for National Statistics (ONS).
It said a fall in exports was largely to blame for the rising trade deficit. The value of exported goods fell by £14.6bn compared to the previous year.
Imports of goods fell for the first time since 2009, down by £7.3bn.
For December the deficit widened to £2.9bn from £1.8bn in November, which was more than economists expected.
December was a very unusual month as oil imports surged by 37%. Economists say that firms are stockpiling oil because the price has fallen so sharply.
So despite a fall in the price of oil, the actual value of oil brought into the UK jumped by more than 20% and contributed to a widening trade deficit in December.
Economists say, however, that if you strip out the effects of oil, the outlook for the trade situation is still not great.
"Whilst December's trade data are not as bad as they first appear, the strong pound and weak demand from the eurozone are likely to prevent a material improvement in the external position in 2015," said Paul Hollingsworth, UK Economist at Capital Economics.