How to catch burglars by remote control
By Fiona Graham
Technology of business reporter, BBC News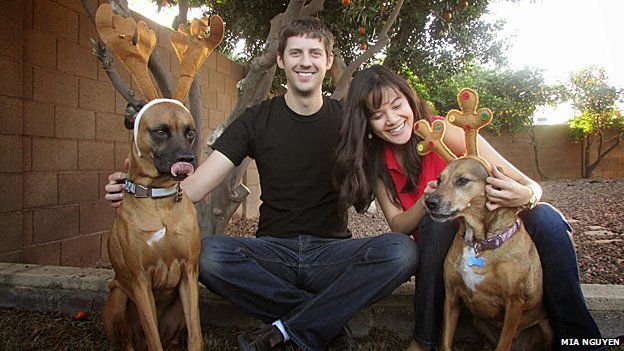 "I saw a man on the screen in my living room and that's when I called 911."
Lawyer Mia Nguyen was sitting in her office glued to the live video feed she'd set up at home to watch her dogs.
Alerted by her Manything app that something was moving in the house, she had logged on to have a look. Her dogs had been barking at something in the back garden for about 15 minutes - unusual behaviour.
"I decided to keep the website pulled up on my work computer," she says. "I was getting more and more suspicious as I heard loud thumping noises and stuff - it turned out that was the burglar trying to open our windows - but I thought it might possibly be a maintenance man."
When she saw the unknown figure on her screen she realised she needed to call the police.
"The man spent about 10 minutes looking through my house, and I watched him the whole time [I was] on the phone with 911," she says.
"Finally, he noticed the camera was recording him and he left my house, and the police caught him as he was exiting the back yard."
Being burgled is a horrible experience. It's not just losing your laptop and electronics, it's the feeling that someone's been in your home, rummaging around in your knicker drawer, and removing items of sentimental value that no insurance policy in the world will be able to replace.
Professional-grade home security systems can come with a hefty price tag, so cheaper systems are welcome.
The Manything system lets you use your old iPhone, iPod touch or iPad as a motion-triggered webcam that can be remotely activated by an app.
The free version allows limited recording with one device, whereas a variety of paid-for options let you increase the number of connected devices and the amount of video you can store in the cloud to view later. It also integrates with If This Then That (IFTTT), a service that triggers an email or text alert when a specified event occurs.
When I tested the device I didn't catch a burglar, but I did discover that a mystery cat was making use of the cat flap and having a good old nose around my front room.
Manything co-founder James West says Ms Nguyen's intruder is not the only burglar the system has caught on camera. The app has over 200,000 users worldwide and stores 10 years of video per day, he says. An Android version of the app is on the way.
"We're charging for two reasons: It's really expensive to build and maintain a video monitoring service like ours so we need to find a way to pay for it.
"[And] people are rightly worried that some products make money by selling their data to advertisers - we will never do that. Our business model is to make money by charging for the service, though we will always have a free option that allows people to try before they buy."
There are other apps available that will turn your smartphone into a webcam with less functionality than Manything provides.
But if you don't happen to have a spare device kicking around at home, there are other options, like the new Withings Home monitor, or the Belkin WeMo system.
WeMo allows you to control a series of connected devices, such as alarm sensors, LED light bulbs, and switches, using your mobile phone.
"Cameras, and in this case IP NetCam video cameras, are a relatively simple but hugely versatile product, and a very common entry point for consumers to the connected home space," says Peter Taylor, WeMo's director of product management.
"WeMo is all about helping you be there - without being there."
Belkin's NetCam also includes a microphone that lets you talk to people or pets in the room, and the newest version (£79.99; $122) comes with infrared night vision.
About 250,000 people currently use the motion activated cameras, the company says. And if you pay for a premium account you can record video to the cloud.
Home security should remain in the home with access properly monitored and restricted
Change any and all default passwords for any hardware associated with home surveillance
Regularly change passwords - each month at the very least - to ensure no one has unauthorised access
Keep your passwords safe and to yourself
Be very careful where you place cameras and put a few signs up to remind you they are there
Make sure family members know cameras are in use and their positions
Monitor closely devices' power plugs for signs of overheating
Source: Mark James, security expert
But Mr Taylor admits that, while the camera can be used as a baby monitor, it is not intended as a replacement for a top-notch home security system.
The WeMo system is also integrated with IFTTT to allow it to be activated by a diverse array of triggers.
Public display of affection
Of course, the big worry for people using webcams in the home is security, especially after the discovery in 2014 of a Big Brother style site featuring hacked webcams that were broadcasting the home lives of a number of unwitting people to the world.
"The issue that happened last year happened to cameras that have open streams on local networks," says Mr Taylor. "NetCams do not allow for unprotected local streams."
"Everything has to be authenticated through our secure server with your username and password. We also brought in a third-party security company to audit our systems."
Manything's James West is equally confident.
"Our app runs on Apple's mobile operating system [iOS], which has not been successfully hacked to date, and we encrypt our users' video data in our cloud servers," he says.
Mark James, security specialist at ESET, says watching our homes remotely is something that's going to increase - and with it safety and security considerations.
"With broadband becoming faster and cheaper it's a great opportunity to keep connected to your house from wherever you are in the world," he says.
"There are a couple of big concerns. Firstly you are trusting your very personal data to living in the cloud - this data is being stored on their servers with often single username and passwords for protection, and the average person won't choose a very complicated password because the very nature of what they want to achieve is easy monitoring when out and about.
"The second concern has to be continuous power to these 'old' phones. Most phones and chargers are not designed to be on 24/7, so you should keep that in mind."
Would-be voyeurs take note though - not everyone is going to like a hidden eye in the corner of the room.
"Home surveillance is a great thing, but you should be very wary of camera placement. It sounds crazy, but you always need to be aware that the camera is on and recording," says Mr James.
"You also need to be very mindful of the younger generation and their inherent trust in the family home as a private place. Having cameras around makes it very public, even if you do perceive that you're the only one who can access them."
Related Internet Links
The BBC is not responsible for the content of external sites.