Sony narrows annual loss forecast thanks to weaker yen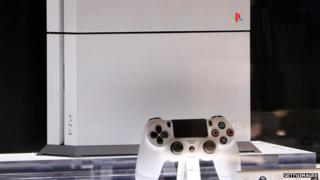 Sony has narrowed its annual loss forecast by 26% after the weaker yen boosted sales of its Playstation 4 products and imaging equipment.
In a provisional results announcement, the firm said it expects a net loss of 170bn yen ($1.4bn; £954m) in the fiscal year to March, down from 230bn yen.
It also raised its annual sales forecast to 8tn yen from 7.8tn yen.
The release of its full earnings report has been delayed to March following a crippling cyber-attack last year.
In January, Sony said it would be unable to report its final quarterly earnings on time, because of the "serious disruption of its network and IT infrastructure as a result of a cyber-attack" on its entertainment division.
However, the Tokyo-based firm said in a statement that the hacking incident was unlikely to have a material effect on its consolidated results.
The Japanese technology and entertainment conglomerate is undergoing a major restructuring that has seen it exit the personal computer business and spin off its TV unit.
One area that continues to struggle is Sony's smartphone business, which has been losing market share to rivals such as Samsung and Xiaomi.
As a result, the company said it plans to cut a total of 2,100 jobs from its mobile business by the end of fiscal 2015.
Sony chief executive Kazuo Hirai is also expected to announce a "new business strategy" later this month.