Energy comparison sites can earn £30 per switch, MPs told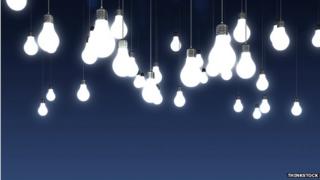 The big five energy comparison sites have admitted they earn up to £30 in commission every time a customer switches provider.
When customers change both electricity and gas accounts, they charge up to £60.
The figures emerged as the bosses of five price comparison sites were questioned by MPs on the Energy Select Committee.
The price comparison sites argued that the fees were justified.
Such payments are controversial, as sites have been accused of "hiding" deals which do not make them money.
John Robertson, a Labour member of the Committee, accused the comparison sites of not being fair to customers.
"There seems to be some kind of ethos in the energy market that says, 'I want to rip off every person I get hold of'," he said.
Profits
Moneysupermarket said it charged energy suppliers £29 on average, which was fair.
"The fees are required to fund the price comparison sites. We are not a simple computer programme," said Peter Plumb, the chief executive of Moneysupermarket.
"We have to spend money on technology, and we have to spend money on marketing," he said.
Steve Weller, the chief executive of Uswitch, initially said the amount it charged was secret.
But when pressed by MPs, he admitted that the average commission was also £30.
Compare the Market and Go Compare said they charged an average of £22.
MPs also heard about the profits made by the biggest five price comparison sites.
The most profitable - Compare the Market - was making £69.7m a year, according to Mr Robertson.
"Every part of the profit we make is based on a customer saving money," said Phil Morgan, the chief operating officer of Go Compare, which makes a profit of £19.8m.
"The larger the profit, the more savings we're putting into the market," he said.
Compare the Market later made it clear that its profit was derived from all the deals on its website, including insurance products.
New Rules
The bosses of the price comparison sites were called in front of the committee to explain why they often hide the best deals from customers.
Consumers who visit such sites are frequently directed to tariffs on which the website is able to earn a commission.
Cheaper deals may not be highlighted.
Most sites offer consumers a choice, asking them if they want to switch "today".
If they say yes, the better-value tariffs may not be shown.
However, the regulator, Ofgem, is introducing new rules for price comparison sites that are members of its confidence code.
From the end of March, such sites will have to show all deals on offer, including those that do not earn the site a commission.
Most of the sites have promised to conform with the new rules, although some say they already do so.
The continuing study into the energy market by the Competition and Markets Authority (CMA) will also examine the role of price comparison sites.