McDonald's Big Mac sauce auction attracts $18,000 bid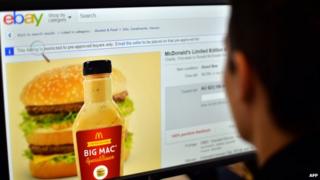 McDonald's is selling a bottle of the special sauce used on their iconic Big Mac burgers on eBay, which has attracted a bid for more than $18,000 (£12,000).
All the proceeds raised will go towards Ronald McDonald House Charities that support families with sick children.
The auction is for the first edition of 200 500ml bottles of sauce and runs from February 9 to 11.
However, it will only be available for sale in Australia.
The advertisement on eBay has already attracted 135 bids and the auction price may rise further given there is another eight days to go.
McDonald's said in the description page that the bottles "won't be sold in restaurants. That makes it rarer than a spot on Bondi beach on New Years Day".
"For too long Big Mac Special Sauce has been trapped in a beautiful, delicious burger - now we've set it free!"
McDonald's customers in Australia will also be able to purchase 25ml tubs of the sauce from any of their outlets this month.
Some people are already trying to sell them on eBay for amounts ranging from $8 to $50 Australian dollars.
The sauce is known to contain ingredients such as salted egg yolks, mustard, onion, garlic and relish. The recipe is available online but recreating the exact mix is a challenge.
The McDonald's restaurant chain has 36,000 outlets in more than 100 countries.