UK manufacturing growth picks up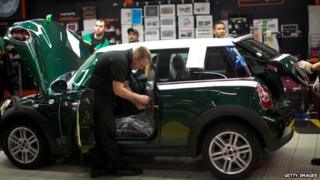 The UK manufacturing sector expanded at a faster pace in January following a modest recovery in export orders, a closely-watched survey has indicated.
The latest Markit/CIPS Purchasing Managers' Index (PMI) rose to 53 from 52.7 in December. A figure above 50 indicates growth.
Cheaper oil led to a sharp drop in costs for companies, the survey found.
Markit said the lower costs led to factories cutting their prices for only the second time in the past five years.
The figures suggest that manufacturing output is rising by about 0.2% a quarter, according to Markit, a a slight improvement on the 0.1% growth recorded in the last three months of 2014.
Rob Dobson, senior economist at Markit, said that pace meant the sector would "provide little meaningful boost" to the economy in the first quarter.
Eurozone 'headwind'
Orders from both home and abroad came in faster last month, the survey showed, with the new export orders index at a five-month high.
However, Mr Dobson said the domestic market remained "the main growth driver".
While there were "signs of improvement" in overseas markets, Mr Dobson added: "It looks as if lacklustre demand from the eurozone in particular remained a headwind for British manufacturers."
Prices paid by manufacturers for raw goods fell at the fastest rate since May 2009 following the recent slide in the oil price.
That meant the prices charged by producers to customers fell for the first time in 19 months and at the fastest pace since September 2009.
Mr Dobson said the fall would help the Bank of England delay an increase in interest rates to "late 2015 at the earliest".
The rate of consumer price inflation fell to its lowest level since May 2000 in December. Mark Carney, the governor of the Bank of England, has said it is likely to turn negative in the coming months.