Pensions: Firms fined for not enrolling staff in schemes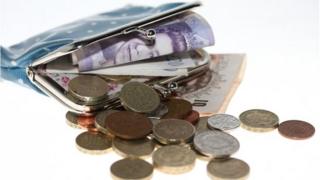 The number of firms fined for failing to meet deadlines for enrolling staff in a pension scheme has increased, the Pensions Regulator has said.
The regulator imposed a fixed penalty of £400 each on 166 employers in the last three months of 2014.
Only three such fines had been imposed before that.
The increase coincided with a bulge in the number of medium-sized firms obliged to complete auto-enrolment last year.
The process of auto-enrolment was launched by the government in 2012, targeting about 1.3 million employers.
It is aimed at ensuring that as many as 10 million employees, who are not currently in a company pension scheme, either join one or join an alternative such as the National Employment Savings Trust (Nest).
The enrolment programme kicked off three years ago with big employers such as banks and supermarkets.
Last year, it encompassed medium-sized employers too - those with between 62 and 149 staff.
So far 43,300 firms in total have begun auto-enrolment and the regulator expects that another 32,000 employers will start this coming financial year.
Most will be medium-sized, but in the 2015-17 financial years a further 770,000 small and micro employers will be obliged to join in as well.
Leaving it late
An employer is obliged to a submit a formal document, a declaration of compliance, to the regulator within five months of the firm's start date for the auto-enrolment process.
The number of firms that have been fined so far for not complying with this requirement is very small.
But the regulator's spokesman, Charles Counsell, made it clear that it expects more firms to be fined as the enrolment process gathers steam.
"The number of employers approaching the date when they must confirm that they have complied with new workplace pensions duties (known as a declaration of compliance) is now beginning to rise significantly," he said.
"In future months, the regulator expects to see more employers who, despite the message to prepare early, leave it too late or do not comply at all.
"The vast majority of employers complete their duties on or ahead of time, but we are seeing a small minority that require the additional nudge of a notice from the Pensions Regulator."
The main reason for not signing up staff to a pension scheme on time seems to be that some employers have not given themselves enough time to prepare.
The regulator recommends that firms start planning at least a year before the so-called staging date for beginning their auto-enrolment process.
Pensions Minister Steve Webb said: "It is encouraging that the vast majority of employers are recognising their responsibilities to their staff and ensuring they have a pension in place.
"Companies need to know that they can't ignore automatic enrolment or the letters they receive from The Pensions Regulator."