Waitrose to create 2,000 jobs at new and existing shops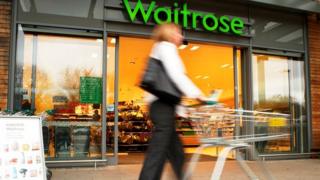 Waitrose expects to create 2,000 jobs in new shops and by expanding existing sites, the grocery chain has announced.
The retailer is opening 14 new shops from the spring this year, seven of them smaller convenience outlets.
Some of the posts will be at a new depot in south London being built to service increasing demand for online grocery shopping.
In contrast, rivals including Tesco and Sainsbury's are shelving expansion plans or even closing stores.
The UK's biggest food retailers are facing increased competition from discount stores such as Lidl and Aldi.
This month Tesco said it will close 43 unprofitable stores, and cancel plans for 49 new large stores.
In November Sainsbury's said it was shelving plans for new stores.
Morrissons is closing 10 loss-making stores in 2015.
Most of Waitrose's announced expansion will take place in south east England.
The retailer, which positions itself at the higher end of the market, has already opened two new shops this year in Egham in Surrey and Walbrook in London.
Waitrose director of development, Nigel Keen, said: "Our expansion story continues as we take the brand to more customers."
"Last year many of our new branches received than more than 10 applications for every vacancy - so we're delighted to be able to create an additional 2,000 roles in 2015."