Premier League clubs drive record global transfer fees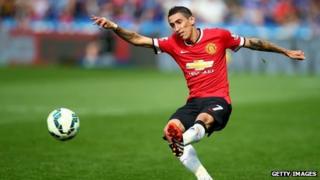 Football clubs around the world spent a record $4.1bn (£2.7bn) on international player transfers during 2014, according to global governing body Fifa.
It is the first time spending has risen above $4bn and a 2.1% increase on 2013.
England was the world's biggest spender, with its clubs paying $1.2bn (£795m) during the year.
That was more than a quarter of the total spending worldwide, and also 67% higher than the second biggest spender, Spain, which spent $700m.
Increasingly lucrative TV deals have given top-flight English clubs the financial muscle to bring in global stars. Bidding has opened for the next tranche of Premier League live domestic television rights for the seasons from 2016-17 to 2018-19, and that is expected to bring in more than the £3.02bn achieved previously.
"From a spending perspective the English market is dominating," said Mark Goddard, from from Fifa's transfer unit.
English clubs also accounted for more than one-third of the $236m paid to agents during the year, handing over $87m to what Fifa calls "intermediaries".
The new global figures refer to international transfers and do not cover "domestic" transfers between two clubs in the same country.
Delays reduced
The data was revealed by Fifa's International Transfer Matching System (ITMS) organisation, which uses modern electronic technology with the aim of making international football transfers more transparent and legally compliant.
Mr Goddard said the system also helped Fifa to gauge the size of the global football transfer industry, and how best to manage it.
He also said the creation of an electronic system over the past seven years, switching from an old-style paper and telephone-based system, to a 21st century digital, online platform, had been welcomed by football clubs and associations.
Other findings included:
In total, there were 13,090 international transfers worldwide in 2014
European countries accounted for 87% of worldwide spending, with international transfers between different European nations representing three-quarters of all spending
Brazil was again the most active nation, with 1,335 transfers, both incoming and outgoing
England was the second most active nation, with Portugal third
Spain was the biggest receiver of transfer money in 2014, some $667m
India hired the oldest players, at 28 years and 10 months
China entered the top 10 biggest spenders worldwide in 2014, forking out more than $100m
In order for an international transfer to be validated, the two clubs involved must enter the relevant information on the deal into the ITMS system.
Fifa ITMS says that the financial benefits it has identified, in terms of increased processing speed and associated cost savings, are estimated at $7.2m-$8m a year.
"The secondary benefits relate to the reduction in transfer delays," it said.
It means clubs will no longer have to pay players' salaries while being unable to play them due to a backlog of transfer paperwork waiting to be processed.
The transfer body said its electronic system also provided protection against the use of fake documents.
In addition, it is designed to help safeguard the protection of minors - players who are not yet 18.
As in 2013, the busiest months of 2014 were January, July and August, when the European transfer window periods were open.
The big five European leagues - England, Germany, France, Italy and Spain - have transfer windows during these months, as does Scotland.
The current winter transfer window closes on 2 February.