Mattel boss resigns on Barbie sales slide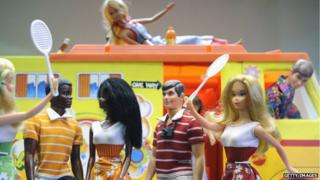 Mattel has removed Bryan Stockton as chief executive and chairman following a 6% fall in sales in the crucial Christmas season.
The Barbie doll and Fisher-Price toymaker said board member Christopher Sinclair would replace Mr Stockton as chairman and would act as interim chief executive while seeking a replacement.
Full-year net profits for the world's biggest toy company slid more than $400m (£266m) to $498.9m.
Mattel shares fell 11% in New York.
Mr Sinclair thanked Mr Stockton for his three years of service but said it was the right time to "revitalise the business and to identify the right leadership for Mattel".
The popularity of Barbie has faded in the past three years as girls opt for dolls based on characters from the Disney animated film Frozen, or gadgets such as tablet computers.
Strong dollar strikes
In 2009, Barbie accounted for more than 25% of the US market for dolls and accessories, but that figure fell to 19.6% in 2013.
Its other doll ranges, such as Monster High and American Girl, have failed to help make up the difference.
Mattel said that a strong US dollar hurt sales, which fell to $1.99bn (£1.32bn) in the quarter to December 31 and were down 7% to just over $6bn for 2014.
Shares fell as low as $24.88 before recovering most of their losses to stand at $27.74.
Mr Stockton had been chief executive since January 2012 and was also named chairman the following year.
Mr Sinclair has been on Mattel's board since 1996 and the former Pepsi executive recently became a director of Reckitt Benckiser.
Mattel employs 30,000 people worldwide.