Black Friday 'may have hit Christmas sales', says ONS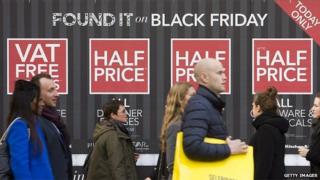 Black Friday sales in November may have hit some UK retailers in December, the ONS has said.
Monthly sales rose 0.4% in December, compared with a 1.6% monthly rise in November.
However, compared with the Christmas period last year, sales volumes rose 4.3%.
Average prices fell by 2.2% in December 2014 compared with December 2013, mainly due to falling fuel prices.
This was the largest fall since June 2002, with the biggest contribution to lower prices coming from petrol stations.
Petrol prices are at their lowest level since October 2009 and diesel prices at their lowest since March 2010, ONS said.
Black Friday
Monthly online sales may also have been affected by Black Friday, with the value of sales decreasing by 2.8% in December compared with November - the largest fall since August 2012, ONS said.
However, internet sales increased by 8.0% compared with December 2013.
Figures for this December were calculated differently compared with last year, when Black Friday sales figures were included in December's data rather than November, ONS added.