EU budget payment pushes up UK borrowing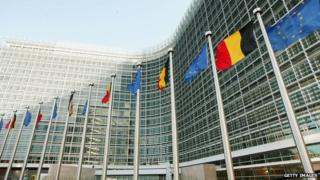 UK government borrowing rose to £13.1bn in December, official figures show, largely as a result of a £2.9bn payment to the European Commission budget.
Figures from the Office for National Statistics show public sector net borrowing rose from £10.3bn a year earlier.
From April to December borrowing was £86.3bn, down slightly from the £86.4bn borrowed in the same period a year ago.
The government's borrowing target for the year to April 2015 is £91.3bn.
Although the budget contribution payable to the European Commission appears in the government's December accounts, the actual money will only be paid later in 2015.
Refunds
A UK Treasury spokesperson said: "This is simply an accounting exercise and there has been no change to the final agreement on the additional EU contribution made in November last year."
That agreement means the £2.9bn will eventually be reduced by existing refunds and rebates from the EU down to about £850m.
Income tax and capital gains tax receipts rose 3.1% from a year earlier, the strongest December increase since 2010.
David Kern, Chief Economist at the British Chambers of Commerce said: "It is disappointing that public sector borrowing in December was again higher than a year ago.
"The current trends suggest that it will be difficult for the government to meet its target for this financial year, although there could be a significant improvement when the January figures - which will include significant income tax payments from businesses to the exchequer - are published next month."