Borrowing boosted by car-buying spree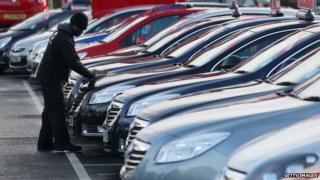 Consumer borrowing hit a near seven-year high in November, mainly as a result of new car sales, Bank of England figures show.
The Bank's figures show £1.3bn was borrowed in unsecured loans in November 2014 - the highest since February 2008.
Excluding credit cards, consumers borrowed a net £1bn pounds in the month, and spent most of it on cars.
Net spending on credit cards dipped slightly, from £400m in October, to £300m in November.
The number of cars sold in the UK last year was 2.47 million, the highest for 10 years.
Industry figures have suggested that 75% were bought with the help of a loan.
The Bank of England figures reflect net borrowing. In other words, it could be that more people are taking out loans, or simply that people are choosing not to pay them off, as a result of low interest rates.
'Cooling'
By contrast, mortgage lending fell. The net figure averaged £1.8bn in the last quarter of 2014 -"slightly down" on the previous quarter.
Separate figures from the Council of Mortgage Lenders (CML) showed that gross mortgage lending was £16.5bn in December, the same as it was in November.
However over the year as a whole mortgage lending rose by no less than 17%, compared with 2013.
"Housing market activity has been cooling and house price growth slowing in recent months, but 2014 was still the strongest year for mortgage lending since 2008," said Bob Pannell, the CML's chief economist.
The Bank of England's figures showed that lending to businesses continued to fall in the last quarter of 2014.
Non-financial businesses borrowed £2.1bn less than they did in the previous three months.