Cartoonist struggles with the art of not offending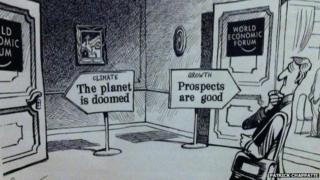 The editorial cartoonist Patrick Chappatte says that satire is becoming increasingly difficult because people are so easily offended.
Speaking at the World Economic Forum in Davos, he said it had become hard "to practise satire in a world where - [especially] in the US - there are a lot of groups that will react if you offend someone."
Commenting on the recent Charlie Hebdo attacks, Chappatte said he defended free speech, but added that the cartoon industry should stop drawing the Prophet Muhammad.
"It's deadly now," he said.
Twelve people died earlier this month after a deadly attack by Islamists on the satirical magazine Charlie Hebdo in Paris.
"There will be blood… I would ask them to put aside Muhammad and just continue being savage with everything else," said Chappatte, who was born in Pakistan, grew up in Switzerland and now lives in Los Angeles.
"I don't think any media has to feel obliged to show the cover of Charlie Hebdo.
"It is tense - there is that tension in our society.
"Cartoonists have become a symbol of something much bigger than they used to be," he said. "They used to be humour, but now it's dead serious."
Shattered world
Speaking to a huddle of journalists at a media party in Davos, he said: "I think that the world of cartooning [was] shattered 10 years ago with the Muhammad cartoons controversy and we knew that the world had changed.
"I knew that a cartoonist would get killed at some point."
In 2005 a Danish newspaper published cartoon depictions of Muhammad, which sparked mass protests among some Muslims.
Chappatte urged people to support cartoonists, because their future "wasn't bright".