Netflix shares jump 12% on growing global membership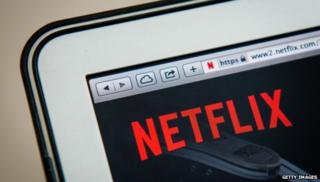 Shares in internet TV streaming service Netflix have risen over 12% in after-hours trading after the company reported better-than-expected fourth quarter earnings.
Netflix made $83m (£55m) in net income during the three-month period ending in December, versus $48m a year ago.
The company also reported growing international subscriptions that beat its estimates.
Netflix has 57.4m global subscribers, with 18.28m from outside the US.
The company said that it would complete its international expansion efforts in two years - ahead of schedule - and that that expansion will be profitable.
It also added it expected to offer Sony's controversial film, The Interview, to subscribers only 30 days after its release, on 24 January.
Netflix added that revenue rose 23% from to $1.48bn during the quarter.
While the company also issued rosy predictions for 2015, it nonetheless added that competition in the sector - from HBO's newly announced Go streaming service to CBS's offerings - was increasing.
Netflix also said that piracy remained a big problem for the company.