Chinese President Xi Jinping 'given 62% pay rise'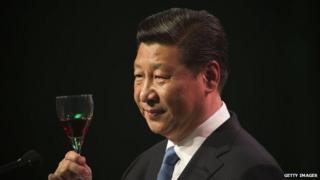 Chinese President Xi Jinping and six other top Communist Party officials have been given a 62% pay rise, according to state-run media reports.
Mr Xi's basic monthly salary will increase to 11,385 yuan ($1,832; £1,209) from 7,020 yuan, the China Daily and Wen Wei Po newspapers said.
Civil servants will also be receiving their first wage increases since 2006, which will be backdated to 1 October.
The move comes amid efforts to combat corruption and increase productivity.
The lowest-ranked civil servants will see their pay more than double to 1,320 yuan or about $212, documents from China's Ministry of Human Resources and Social Security reportedly showed.
Mr Xi and six members of the Communist Party's elite Politburo Standing Committee will see the highest salary increase given their position and duties.
However, Mr Xi's new salary of about $22,000 a year will still be far less than that of his peers. US president Barack Obama, for example, earns a base salary of $400,000 a year.
The world's highest paid leader is Singapore's Prime Minister, Lee Hsien Loong, who earns $1.8m.
Corruption crackdown
Wages for a Chinese worker will also remain low by global standards following the increase.
However, civil servants have traditionally been given performance bonuses and additional allowances for housing and travel on top of their basic salary.
But given the topic of government pay scales remains relatively taboo in China, no official breakdowns or amounts have been given.
Critics say low pay has been one of the main causes of corruption as workers in both the public and private sectors look to supplement their income.
The wage increases come amid a crackdown on corruption and lavish behaviour, and analysts believe that move will also have a positive effect on the economy.
"The central government is also working at lifting the wage received by low income earners and this will encourage the growth in the number of middle class people in China," investment bank Nomura wrote on 16 January.