Autonomy HP sale investigation by Serious Fraud Office closes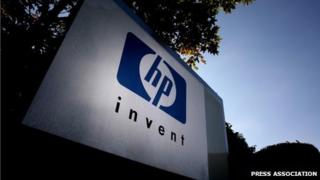 The Serious Fraud Office (SFO) has closed its investigation into the 2011 takeover of UK software firm Autonomy by computer giant Hewlett-Packard (HP).
The SFO began looking into the sale in early 2013, after a referral from HP.
HP had claimed it was misled by Autonomy as to its true value.
The SFO has concluded that, in respect of some aspects of the allegations, and on the information available to it, there is insufficient evidence for a realistic prospect of conviction.
HP paid $11.1bn for Autonomy, but a year later said it was worth $8.8bn less.
The SFO said the deal was being examined by US authorities.
It said in a statement: "In respect of other aspects and on the application of well-established principles, jurisdiction over the investigation has been ceded to the US authorities, whose investigation is ongoing."
The UK's Financial Reporting Council is continuing to investigate the deal.
Mike Lynch, co-founder and former chief executive of Autonomy, welcomed the SFO's decision.
"As we have always said, HP's allegations are false, and we are pleased that after a two-year review of the material presented by HP, the SFO has concluded that there is not a case to pursue," he said.
"Let's remember, HP made allegations of a $5bn fraud, and presented the case in public as a slam dunk. HP now faces serious questions of its own about its conduct in this case and the false statements it has made."
Legal battle
Late last summer, Autonomy filed papers in a San Francisco court accusing HP of "mismanagement" of the takeover.
Autonomy's former chief financial officer, Sushovan Hussain, said that HP wanted to "cover up its mismanagement of the Autonomy integration".
HP dismissed Mr Hussain's complaint as "preposterous".
HP and its shareholders have been fighting a legal battle, accusing both Mr Lynch, as well as Mr Hussain, of misleading them over the true value of the company.
A spokesperson for HP said: "HP remains committed to holding the architects of the Autonomy fraud accountable. As the SFO made clear, the US authorities are continuing their investigation and we continue to cooperate with that investigation."