Goldman Sachs profits fall to $2.17bn for last three months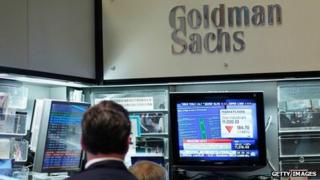 Goldman Sachs has posted a 7% fall in quarterly profits after weaker bond trading and a decline in investment bank revenues.
The Wall Street giant saw earnings fall to $2.17bn (£1.5bn) in the last three months of 2014.
However, for the full year, net earnings were up 5.4% to $8.48bn.
Total bonus, expenses, and salary expenditure for the year was $12.69bn. As a percentage of its net revenues, this total was a slight fall on 2013.
The amount the company paid in bonuses as a percentage of income was 36.8%, about the same as in 2013.
Of all the banks operating in the UK, Goldman Sachs paid the highest bonuses in 2013, according to a poll by Reuters.
'Pick up'
Citigroup, Bank of America and JPMorgan Chase have all reported weaker trading revenues recently.
In the division covering fixed income securities, currencies and commodities (FICC), where Goldman is typically a strong performer, revenue was down 29% to $1.22bn in the fourth quarter, largely because of low turnover of key products in debt and mortgages.
By comparison, of the banks that have reported so far, only Bank of America did worse than Goldman in its FICC division, with a fall in revenue of 30%.
JPMorgan Chase's revenue was down 14% and Citigroup down 16%.
The FICC division once supplied 40% of Goldman's revenue, but has been falling since 2009 after new rules discouraged banks from trading on their own account.
It provided 16% of revenue in this latest quarter.
Lloyd Blankfein, Goldman's chairman and chief executive, said: "We are pleased with our performance during a year characterised by mixed global economic and financial conditions.
"Looking ahead, we see evidence of a continued pick up in momentum for the global economy that will improve the opportunity set for 2015."