How to get a decent plumber without going round the U-bend
By Nigel Cassidy
BBC News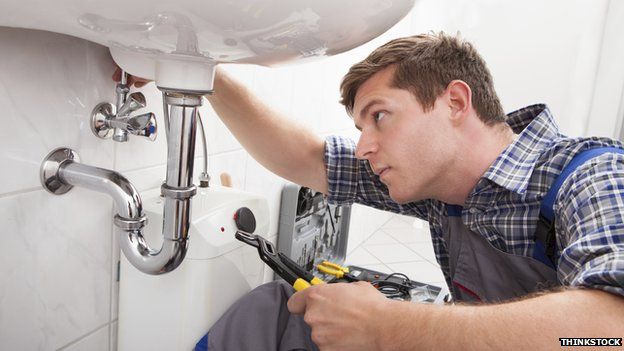 A sudden leak or a boiler breakdown can be a real headache if you're not prepared for it.
Things may not be too bad if you already know a trusted plumber or heating engineer that knows your system and can be relied on.
But the trouble is that many people just go straight to the phone directory or to internet listings and pick a trader at random.
Emergency plumbing is a distress purchase and rogue traders know it. In fact winter is their busiest time of year.
'Hitting boiler with spanner'
Steve Playle, lead officer of the Trading Standards Institute (TSI), says going with the first free engineer you find can be a big mistake.
While most emergency plumbers may be legitimate, many may not be properly qualified and are past-masters at dragging the job out to maximise their income.
"Many plumbers charge a call out and then for every half hour," says Mr Playle.
"Ask plenty of questions about what the job involves and how long it will take. If you give them the job, don't just leave the trader to it but keep popping in on them to check on what they are doing.
"We've had cases where we've seen traders hitting the side of a boiler with a spanner to make it seem as if the work has continued into the next charging band."
Avoid the rogues by asking friends or family for recommendations - preferably before you ever need to call anyone, he advises.
Keep the numbers in your phone. Seek out bona-fide trade organisations - most local authority websites have approved trader schemes where you can locate previously vetted Gas Safe engineers.
You can also search for reputable tradesmen in England and Wales via the Association of Plumbing and Heating Contractors (APHC) and in Scotland and Northern Ireland through SNIPEF.
John Thompson, the chief executive of the APHC, says there really is no need to stick with the first available plumber that you stumble on.
"If you feel pressurised into accepting work without a full explanation, have the confidence to question or get a second opinion. Also check if the tradesmen has the right credentials to work on your appliances," he says.
Mind you, if water is pouring, or even just dripping from the ceiling, you will need to try and isolate the problems to minimise damage before the plumber arrives.
For major leaks, turn off the water supply at the main stop tap, usually in the kitchen. You might need to resort to turning off the water company tap at the boundary of the property. Older ones may also turn off your neighbour's supply.
Smaller internal leaks can be stopped using local isolation valves - usually next to the appliance or tap concerned. These may be less familiar to older consumers as they take the form of levers or are just turned with a screwdriver.
On a combi boiler the isolation valve will be located underneath the boiler.
Ian Puddick is the founder of the London Boiler Company. His team is well used to being called out to replace worn out boilers which give up the ghost when they are pushed too hard.
"What happens is that all of a sudden people turn the thermostat up, but this pushes your boiler over the edge," he says.
"Also where you have tanks in the loft, check the little one to see that it's full of water. These can work with little in them for years, but when you turn the temperature up it drives the system a bit harder and then it stops."
Mr Puddick also has a helpful tip for avoiding a big freeze in your loft.
"Once you have checked all your pipes and tanks are lagged, protected and covered, check underneath the water tank. If there's some insulation there just pull it out and leave that area clear so heat can rise and protect the tank."
Emergency repairs are costly. So to avoid being fleeced by an opportunist plumber, it's worth getting your pipes and systems checked and serviced by a reputable engineer before temperatures drop once again.
Related Internet Links
The BBC is not responsible for the content of external sites.