RBS admits mis-selling business loans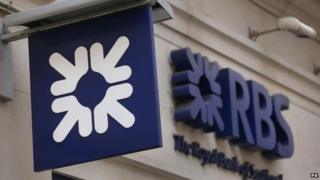 Royal Bank of Scotland has admitted it has mis-sold loans to small business customers under the Enterprise Finance Guarantee (EFG) scheme.
The taxpayer-backed scheme was set up in 2009 to help firms who would otherwise find it difficult to find credit.
The mis-selling was uncovered after complaints that the scheme was not properly explained to borrowers.
RBS has lent more than £900m to 9,000 small firms since the EFG scheme began.
Complaints
RBS - 80%-owned by the taxpayer - is the biggest user of the EFG scheme.
It is designed to provide a 75% government guarantee to lenders to encourage them to back small businesses without enough security for a standard bank loan.
Some RBS customers were led to believe the guarantee was for their benefit, rather than to increase banks' willingness to lend, and did not realise they remained liable for all of the money.
The problem came to light after complaints from customers, which prompted discussions with the British Business Bank that oversees the scheme.
'Thorough review'
RBS reviewed a sample of EFG customer files and said the exercise "identified a number of instances where we have not properly explained to customers how borrower and guarantor liabilities work under the EFG scheme".
The bank said it would be implementing a "thorough and proactive review of affected and potentially affected customers to ensure they are put back in the position they believed they would have been in".
The Financial Conduct Authority has been informed of the issue.
RBS is contacting about 1,800 EFG loans customers who took out a loan under the scheme and either defaulted or found themselves in a "stressed" financial position.