Target: 17,600 jobs at risk as retailer leaves Canada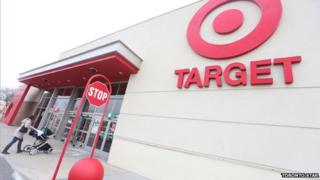 The US discount store Target is to shut all of its 133 stores in Canada two years after launching there.
On current trading performance, Target Canada, which employs 17,600 people, would not be profitable before 2021, its US parent said in a statement.
Target Canada, which has filed for bankruptcy protection, faced tough competition from Walmart and Costco, which opened in the country years ago.
Target said the closure was in the "best interest of the business".
Chairman and chief executive Brian Cornell said in a statement: "After a thorough review of our Canadian performance and careful consideration of the implications of all options, we were unable to find a realistic scenario that would get Target Canada to profitability until at least 2021,"
He said the focus now would be on "driving growth" in the US, where it has 1,801 stores.
---
Toronto customers 'saddened'
I was very sad to hear that they're closing. My wife figures it's not doing well here because of Walmart. If you go to Walmart, it's always full of people. So I think people prefer to go there than come here. Why - I don't know. The stuff they have over there, the quality is not as good. It's a mystery. Roberto Rodriguez
I feel very sad. I don't understand why they're closing. Thiyagarah Kumar
I don't like shopping here - today is my first time. I can't find anything cheap. I only bought three pairs of socks. That's it. Kajani Kumar
I'm not surprised. When we heard Target was coming, Canadians expected to have access to US merchandise. I used to shop at Target in Buffalo. But they don't have any of it here. There are dozens of kinds of cereals and soups in the States that we don't have. Richard Schappert
---
There had been criticism that Target's launch in Canada was inept, with uncompetitive pricing and poor range of stock in the stores.
Shares in Target rose 8% in early trading following the news it was leaving Canada.
Mr Cornell, named chief executive six months ago, said: "It was a difficult decision but it was the right decision for our company.
"We have determined that it is in the best interest of our business and our shareholders to exit the Canadian market and focus on driving growth and building further momentum in our US business. "
It is Mr Cornell's first big move following the resignation of Gregg Steinhafel last year.
Target is not the only US discounter to suffer across the border. Big Lots and Best Buy have both closed stores in Canada.
Target said it expected cost of the exit to be between $500m (£328m) and $600m.
Additional reporting from Toronto by Micah Luxen