Minimum wage: 37 firms named for failing to pay rate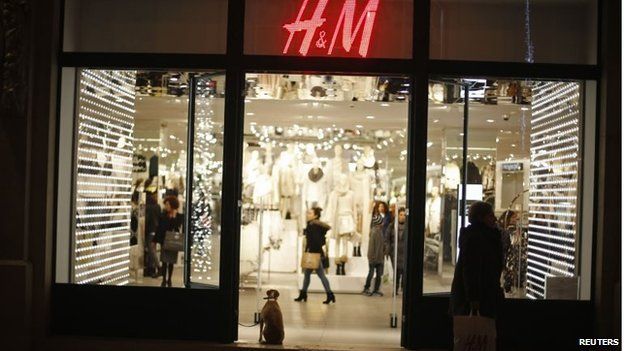 Retail giant H&M and service station operator Welcome Break are among 37 firms to be "named and shamed" for failing to pay the minimum wage.
It is the single biggest list of companies exposed by the Department for Business, Innovation and Skills.
The 37 firms will be fined a total of £51,000 and must also pay affected staff the £177,000 they were underpaid.
Welcome Break said a new IT problem contributed to the mistake, while H&M blamed time logging errors.
The government has already named 55 firms since October 2013 for underpaying staff.
The minimum wage for adults aged 21 and over currently stands at £6.50 per hour although the three major Westminster parties have all said they want to raise it.
Current National Minimum Wage rates:
Adult rate (21 and over) - £6.50 per hour
18 to 20-year-olds - £5.13 per hour
16 to 17-year-olds - £3.79 per hour
Apprentice rate - £2.73 per hour
Business Minister Jo Swinson said: "Paying less than the minimum wage is illegal, immoral and completely unacceptable.
"If employers break this law they need to know that we will take tough action by naming, shaming and fining them as well as helping workers recover the hundreds of thousands of pounds in pay owed to them."
H&M owner Hennes & Mauritz failed to pay £2,604.87 to 540 workers, said the government department.
"H&M employs over 9,500 people in the United Kingdom. Unfortunately due to errors within some of our stores concerning time logging, 540 employees were accidentally underpaid the national minimum wage," it said in a statement.
"The average underpayment for those affected was £4.82. All such arrears were immediately processed and we accept that the errors should not have occurred.
"HMRC have confirmed that they were happy with H&M's complete transparency cooperation and full engagement with the process."
Welcome Break failed to pay £1,318.70 to 20 people.
Welcome Break chief executive Rod McKie said: "The initial breach was brought to light as an employee complained to the HMRC that her pay rate had not been increased correctly upon reaching her 21st Birthday.
After investigating, the firm found more people "in a similar position", he said.
"These incidents were not as a result of a decision to withhold an increase but resulted from a combination of factors, specifically, a change of management within the units, periods of holiday and a difficulty with a new IT system and set of management processes," said Mr McKie.
TUC general secretary Frances O'Grady said: "It's good to see the government getting tough on bad bosses who cheat hard-working employees out of the pay they're legally entitled to. But with over 600 employers being caught underpaying each year, those named and shamed today are only the tip of the iceberg.
"There are companies out there that cheat hundreds of staff out of a legal minimum wage - these are the biggest offenders and their pay crimes must be made public too.
"Ministers must also step up enforcement action with more prosecutions, higher fines and a bigger team of enforcement officers to catch the cheats."
The TUC recently published a 10-point plan for minimum wage enforcement, including a call for much higher fines.
Philip Pepper, employment law partner at Shakespeares, said: "There are a number of reasons why employers may have got this wrong or been caught out.
"It is most likely due to human error, but in some cases minimum wage regulations can be complex to apply.
"Other reasons for underpayment could be a straightforward payroll error, for example applying the wrong pay band to workers who are 21 or over."
One of the employers named, the LearnPlay Foundation, contacted the BBC to say it was disputing the Department of Business, Innovation and Skills' decision to include it on the list.