Davos: The case for and against going to WEF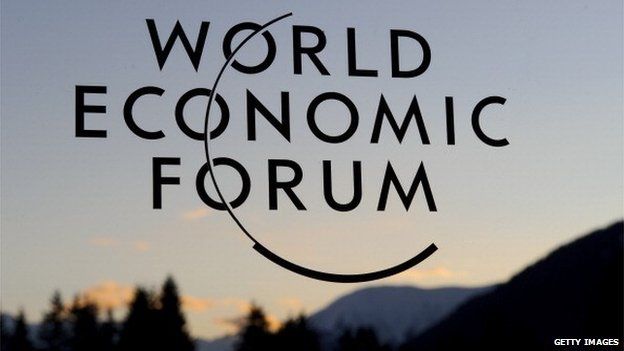 Every year top political and business leaders from around the world gather in the small Swiss ski-resort of Davos for the World Economic Forum.
It is the biggest event of its kind, and participants say it's not to be missed if you want to both be in touch with what's happening in the world and, more importantly, influence it.
Its detractors say it is a talking-shop where nothing gets done.
We hear from the two opposing views.
The founder of Yo! Sushi and Yotel, Simon Woodroffe explains why he's got better things to do, while Paul Polman, the chief executive of Unilever, the company behind Marmite, PG Tips and Persil, sets out why he sees it as vital for improving the world.
Founder of YO! Sushi and YOTEL
"We live in a world where everybody has an opinion on everything and if they haven't, they make it up. I know this is true because I have done it myself and anyway there is a statistic that, as I remember, proves that most statistics are made up.
I have taken to saying 'I don't know' to things about which I am not well educated, to avoid the cacophony of confusion that too many opinions create. I would prefer to support those I like who are in the know. That is the reason you will not find me in Davos this week.
And call me an optimist, but I look forward to the day that we choose and pay our leaders well, and then encourage them, rather than cheering the press to bring them down like gladiators of old, while we, the public, cheer from the stands.
Hardly a way a successful business would operate and I don't think the late Steve Jobs would have stood for it, which of course is why he, and I and many others steer clear of political office, of which Davos is a playground.
It is a pity because, here in the UK, the one thing we don't lack is talent and the desire for change for the good, including, in my experience, amongst those from the post dot.com generation.
What I have found makes the most difference is doing things. Felix Dennis, the late publisher whose poetry I like, wrote
So while they are all out in Davos, where perhaps a few fruitful initiatives will be hatched in quiet rooms by thoughtful people, but for the most part over inflated egos will get further blown up and popped, I will endeavour, as I do, to make small moves that make a difference down here on the playing field and perhaps inspire the people that I meet to do the same.
Like the boy scouts of my childhood, imagine a world in which everyone looked to do one good turn a day.
Felix ended his poem, which is called "How to get Rich", like this:
And bluff your way through it
That's what the real entrepreneurs at the coal faces will be doing this week."
Chief executive, Unilever
"I am attending Davos because there is simply too much at stake. The world has always faced challenges, but never so many at once.
Rising unemployment, poverty, food security, climate change and geopolitical uncertainty. Our economic system is not quite working. Certainly not for all. On top of that, the population is expected to grow by another 30% by 2050, putting even more strain on finite resources.
We have the unique opportunity to be the first generation to bring an end to poverty and the last to prevent the worst impacts of climate change.
It's a business, as well as a moral, argument. You can't have a healthy business in an unhealthy world.
I believe business is a big part of the solution. But to really make a difference globally, we need to build partnerships. That's what happens at Davos. It brings together young entrepreneurs, leading NGOs, the UN secretary general and presidents of over 60 countries. We simply cannot do it alone.
At Unilever we reach two billion consumers a day and want to continue serving them in years to come. To do that we've adopted a new kind of business model, helping them to live more sustainably, decoupling growth from our environmental footprint and increasing positive social impact.
We can do our bit through our own operations - empowering women in our supply chain which drives economic development; sourcing raw materials sustainably.
But also through our products - such as fortifying our food brands with extra nutrients to tackle under-nutrition; creating products that use less water; developing more effective soaps and detergents to improve hygiene and sanitation and help fight disease.
'Co-ordinated and ambitious'
We go to Davos to do this and to represent people who can't be there - those who live in poverty or are too hungry to go to school, those who may not even have made it beyond the age of five due to malnutrition, natural disasters or simply poor sanitation.
Actions there can make a tangible difference. Deforestation blights entire communities and contributes up to 15% of all emissions.
Last year, actions at Davos led to over 170 key players committing to ending deforestation by 2030. Great strides were also made on food security and the Grow Africa initiative helped mobilise investment pledges of more than $10 billion by over 160 companies. The Scaling Up Nutrition plan to stop stunting was also accelerated there.
Of course we need action on the ground. But we also need to be co-ordinated and ambitious.
And there is no better time.
Later this year, world leaders will meet to agree a new development agenda and binding climate deal. The outcomes will decide the lives of many.
I urge people not to stand at the sidelines - but to get involved and work together. That's what I'll be doing this week."
Related Internet Links
The BBC is not responsible for the content of external sites.