China's exports beat expectations with 9.7% rise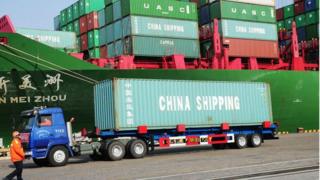 China's December trade figures have beaten expectations with exports up 9.7% and imports down 2.3% from a year earlier.
The final numbers for the year mean exports rose 6.1% in 2014 compared with 2013, while imports rose 0.4%, state news agency Xinhua said.
The December figures leave the country with a surplus of 304.5bn yuan ($49.1bn; £32.34bn) for the month.
Analysts expected imports to fall more than 7% and exports to rise by 6.8%.
They said a continued fall in imports reflected the impact of the continuing plunge in world oil prices.
In November, China's imports fell 6.7% against predictions of a 3.9% rise.
"[Falling imports also] reflect declines in other key commodity prices such as iron ore and coal on Chinese import figures in recent months," said IHS Asia-Pacific chief economist Rajiv Biswas.
Good news?
There has been speculation that the Chinese government would soon introduce fresh stimulus measures to boost economic growth, but analysts said the better-than-expected data would give the government some reprieve.
"Net exports are providing a positive contribution to Chinese [economic] growth at a time when domestic demand has been moderating, particularly due to the slowdown in the residential construction sector," Mr Biswas said.
China's economic growth slowed to 7.3% in the third quarter, marking its weakest quarter since the global financial crisis as a cooling property market and tighter credit conditions weighed on growth.
Mr Biswas said he expected Chinese merchandise exports would grow at 7.7% this year, "helped by stronger growth in the US economy and some improvement in EU growth, as falling oil prices provide a positive stimulus to the US and EU economies".