Pensioner bonds' website struggles as sale starts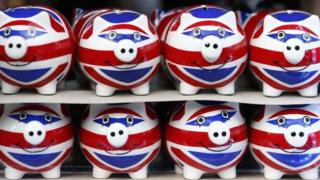 Bonds paying an annual interest rate of up to 4% for people over 65 have gone on sale, but high demand has led to some website problems.
The government-backed "pensioner bonds" are being offered through National Savings and Investments.
Market-leading rates after years of low returns on accounts meant the bonds had been expected to sell quickly.
Chancellor George Osborne said 26,000 bonds have been sold by Thursday afternoon, raising £270m.
Within an hour of the announcement of the bonds going on sale, there were problems with the NS&I website. Throughout the day, potential customers have been reporting long waits trying to contact NS&I on the phone.
"We are currently experiencing high demand for our new 65+ Guaranteed Growth Bonds - customers may have to wait longer than normal to contact us. We're sorry for the inconvenience this has caused and are grateful to our customers for their patience. Our call centres are open 24/7," said a spokesman for NS&I.
The difficulties - which are affecting some customers intermittently - came despite a plea to pensioners to take their time over applications, and to apply over the internet.
"We expect these bonds to be on sale for months not weeks and would like to reassure savers that there is no need to rush to invest. We would also encourage savers to apply online. This should be the quickest and easiest way to invest and will provide immediate assurance that an application has been received," said Jane Platt, chief executive of NS&I, as the start of sales was announced.
Sylvia Waycot, editor of Moneyfacts financial information service, predicted that the bonds would actually be sold out in days.
'Frustrated'
Retired financial services worker Charles Fox said he had been checking every morning to see whether the Pensioner Bonds had been launched.
When Mr Fox, from Romford in Essex, saw they were on sale, he logged on to the website, only to find it was temporarily unavailable.
He then tried to call by phone but the line was engaged.
"After trying for almost an hour I gave up," he said.
"I can remember the good old days where you simply went to the local Post Office and were supplied with your Investment Bond Certificate over the counter."
Rates
The one-year bond pays an annual interest rate of 2.8% before tax, and the three-year bonds pays 4% before tax. Interest will be added on each anniversary after investment.
Financial advisers have pointed out that the best one-year bond on the open market was currently paying 1.85% interest and the best three-year bond was paying 2.5%.
"Now that a rise in interest rates looks even less likely this year, these new bonds look even more attractive and I expect them to sell like hotcakes," said Danny Cox, of investment firm Hargreaves Lansdown.
"Back in 2011, the popular NS&I index-linked certificates sold £5bn in four months before being closed. This year's bonds are a different product, but I would be highly surprised if the £10bn allocation lasts until the new tax year in April."
Tax will be deducted from the interest paid on these bonds, however non-taxpayers can claim this back from HM Revenue and Customs (HMRC).
Basic rate taxpayers must declare the interest if they complete a tax return. Higher and additional rate taxpayers need to declare the interest to HMRC and pay any further tax due.
Investment is limited to £10,000 in each bond, making a maximum of £20,000 per individual.
The creation of the bonds was first announced by Mr Osborne in his Budget in March. He announced that they were on sale via Twitter.