Rail disruption caused by bad planning, Network Rail says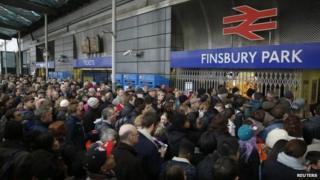 Equipment failure and bad planning for delays caused the disruption to rail travellers over Christmas, a report by Network Rail has said.
Thousands of passengers had their journeys disrupted when work near King's Cross took longer than planned.
Trains were switched to Finsbury Park, a much smaller station.
"Not enough was done" in planning the switch, said the report, which included an apology from Mark Carne, Network Rail's chief executive.
Work near London's Paddington station finished on time, but a safety check took eight hours longer than planned.
'We let passengers down'
"A number of things went wrong in these two instances. In addition it is clear that our project back-up plans and the train service plans should have done a much better job in protecting the travelling public from our engineering problems," Mr Carne said.
"Over Christmas, we undertook the biggest programme of engineering and investment work ever, on train lines across the country. Ninety-nine per cent went to plan but in the case of King's Cross and Paddington we let passengers down.
"I sincerely apologise for the disruption over the festive period and we are determined to learn the lessons so that we can continue to make the improvements the travelling public deserve."
---
Analysis: Richard Westcott, Transport correspondent
Is anyone getting a sense of deja vu here?
Seven years ago. Christmas holidays. Overrunning repair work. Thousands stranded at train stations.
Back then, Network Rail was forced to admit that specialist workmen simply hadn't turned up for work.
The company was fined £14m (a record at the time) by the regulator and promised it would never happen again.
Clearly it has, although for totally different reasons this time.
The regulator may choose to fine the company again, but many question the point of big fines. It means taking money that could be used to repair the network, and giving it to the government instead.
It's hard to see how that helps passengers.
---
Work should have been finished allowing King's Cross and Paddington to open on 27 December. But King's Cross had to close all day while Paddington only opened in the early afternoon.
Network Rail said that, by 10:30 on 27 December, Finsbury Park had become so crowded that incoming passengers could not get off their trains. Rail travellers had to queue for as much as three hours to get into the station.
Better information
The row over the delays led to Mr Carne renouncing his annual bonus, which could have been as much as £135,000.
"On the basis of this report and the events on the day the industry has a long way to go to restore trust in how it handles these events," said Anthony Smith, chief executive of the rail customer watchdog Passenger Focus.
Network Rail says it will review how it plans for over-runs and will "provide better information to passengers".