Heathrow and Gatwick report record passenger numbers in 2014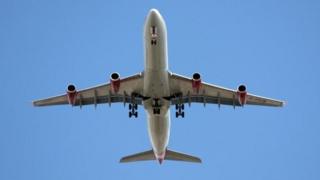 The UK's two largest airports, Heathrow and Gatwick, have both reported record passenger numbers for last year.
There were 73.4 million passengers passing through Heathrow while 38 million people used Gatwick.
Each airport seized on its own growth as further evidence that it needs to be expanded with an extra runway.
Since 2012, the government's Airports Commission, led by Sir Howard Davies, has been looking at where the UK's airline capacity can be expanded.
Heathrow argued that it was the only viable location for more direct flights to "growing cities" around the world.
Gatwick said it was the "obvious solution" for any airport expansion in south-east England.
Both airports have been lobbying and using advertising campaigns to back up their arguments that they alone should be the preferred location for any new runway.
Each airport argues that such a development would be crucial to the future economic well-being of the nation.
Heathrow's chief executive John Holland-Kaye highlighted last week's decision of Vietnam Airlines to move its UK flights from Gatwick to Heathrow as evidence that long-haul flights needed a "hub" airport, such as Heathrow, from which to operate.
"Only by expanding Heathrow can we add direct flights to the world's growing cities, increase our exports and connect all of the UK to global growth," he said.
"Expanding Heathrow will help Britain win the race for growth."
Gatwick said: "Airport expansion should be for the many not the few - our broad range of growth underlines that Gatwick is the obvious solution if we want all passengers and all types of travel to benefit."
So far the Airports Commission has narrowed the choices down to three and is scheduled to come up with a final recommendation later this year.
The three are:
A third runway at Heathrow
Lengthening an existing runway at Heathrow
A second runway at Gatwick.
The idea is that demand for extra flights in and out of the UK can be met by expanding capacity in south-east England.