Shares in Li Ka-shing's firms soar on re-structuring plan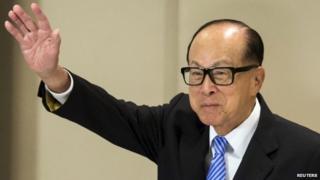 Shares of property giant Cheung Kong Holdings, and investment holding firm Hutchison Whampoa, surged on Monday in Hong Kong after a restructuring announcement.
Hong Kong's richest person, Li Ka-shing, made the announcement about his two major firms late last Friday.
Cheung Kong's shares were up in Hong Kong as much as 14% in afternoon trading on Monday.
Meanwhile Hutchison Whampoa's shares had surged more than 12%.
Both firms fall under the Cheung Kong Group, a leading multi-national conglomerate with operations in more than 50 countries.
A statement made to the Hong Kong stock exchange on Friday said the "reorganisation and combination of the businesses of the Cheung Kong Group and the Hutchison Group [would] create two new leading Hong Kong listed companies."
One of the new firms would have a focus on property, while the other would be focused on energy, retail and telecoms.
The restructuring and re-organisation of Mr Li's companies would also involve moving their base from Hong Kong to the Cayman Islands in the Caribbean.
The move is expected to attract more investors, and analysts said it would help increase transparency and remove confusing cross-group investments.
Forbes magazine estimates that Mr Li's wealth from his property, energy, retail, ports and technology businesses amounts to $33.5bn (£22.1bn).