Hinchingbrooke Hospital and the future for outsourcing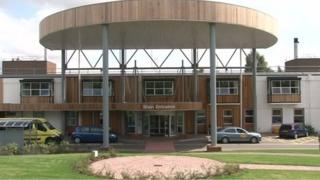 Is the great experiment finally over? The only fully outsourced hospital in England may be coming back, for the moment at least, into public hands.
The healthcare company Circle has given notice that it may end its contract to run Hinchingbrooke Health Care NHS Trust, a small hospital in Cambridgeshire.
In a statement, the company said it had "reluctantly concluded that operating the franchise is no longer viable under current terms". This could mean termination - or renegotiation.
This is a bit of a moment - Hinchingbrooke was a totem for what the private sector could do to help the NHS. It has been the subject of praise from the right, in particular.
But it is also no surprise. The contract Circle agreed has long been assumed to be undeliverable. It rested on the assumption that the company could do amazing things.
'Long-term problems'
The background is that Hinchingbrooke has long been a struggling hospital. It is small, and wedged between much bigger providers. According to the internal NHS mythology, it was only saved from closure in the 1990s because John Major was the local MP.
Its financial problems were severe. By 2007-08, it ran a £16m deficit on turnover of £73m. That is why, in 2009, the Department of Health gave local NHS bodies the green light to franchise its management out - to bring in outsiders to run it, in the hope they could save it.
After a tendering process, a 10-year contract was agreed with Circle in late 2011. The deal envisaged that Circle could be required to put in up to £5m to cover losses by the hospital, and up to £2m to cover termination costs if they decided to walk away from the deal.
So Circle signed up for up to a £7m potential loss. But if they turned around the hospital, moved it into surplus and saved enough money from its budget to repay £48m towards the hospital's outstanding debts, they would also be able to take £35m in profit.
Contract 'undeliverable'
Today, Circle said that it has already put in nearly £5m - and has decided that it is not worth persevering to turn it around on current terms.
In its statement, Circle blames the hospital inspectors, parts of whose early critical reports have already been leaked.
"We understand the CQC (Care Quality Commission) report will be published soon, and expect it to be both unbalanced and to disagree with many of its conclusions," the statement reads.
They also have a crack at NHS policy: "There have been significant changes in the operational landscape for NHS hospitals since the contract was originally procured in 2009, including unprecedented increases in accident and emergency attendances, insufficient care places for patients awaiting discharge, and funding levels that have not kept pace with demand. "
But I find myself coming back to the contract. It always looked undeliverable.
Circle does seem to have improved the management of the hospital. But, under its plans, it anticipated making a 5% efficiency gain in the first year. In the second? 11%. That is rather a lot.
But it goes on. For the remaining eight years, the hospital would need to become 5.9% more efficient, on average, every single year. Without a break. That would have been an astounding, extraordinary achievement.
Some readers with private business experience may not think too much of that, but remember this is an NHS hospital. Unlike a private company, it is not allowed to drop lots of key services because they have thin margins or are loss-making.
Almost from the outset, Circle was off-track. This is embarrassing for advocates of private provision in the NHS, and creates great uncertainty for the healthcare system in the east of England.
Future of outsourcing
But there are reasons to be more cheerful. Firstly, the hospital is probably in a better position for their involvement.
The NHS also successfully drafted a contract to share risk with a private contractor - the Department of Health has not lost its nerve and bailed Circle out. (At least, not yet.)
That is quite an important fact. A major problem in public outsourcing is that the government often finds ways to help out its private providers. If outsourcing is done properly, private providers should squeal, fail and walk away fairly regularly.
So what does this mean for the future of outsourcing? The politics of it are tough. It is embarrassing if private providers fail, but a sign of failure if they always succeed. The pro-marketeers look a bit more sheepish than usual today.
It will certainly make it harder to be pro-market within the NHS. The Department of Health is already pretty quiet about its pro-market health reforms. And since it agreed to a contract that looked so hard to deliver, it needs to take a look at its own decisions.
Finally, this case also tells you something about life inside the NHS.
Circle's complaints about financial and policy-change risk within the system are real and fair: hospitals exist within a rollercoaster of constantly changing income and expectations. The system is designed to protect the Treasury and leaves hospitals to cope.
Circle walked away. NHS hospitals cannot.