Cheer for motorists as fuel prices hit five-year low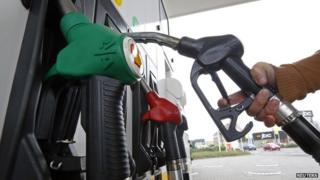 The price of unleaded petrol has fallen to its lowest level in five years, bringing cheer for motorists and businesses.
The average unleaded price across the UK is now 109.8p a litre, according to the information group Experian Catalist.
The last time it dipped below 110p was on January 3rd, 2010.
Four big UK supermarkets cut their prices by 2p a litre this week, in response to the falling cost of oil.
On Wednesday, Brent Crude dropped to below $50 a barrel for the first time since May 2009.
Some analysts have predicted the cost at the pumps could go as low as £1.00 a litre.
Average price of fuel
Date
Unleaded petrol
Diesel
6 January
110.35
117.54
7 January
109.8
117
source: Experian Catalist
The price of diesel is at its lowest since March 15th, 2010. On that date it was 116.87p per litre.
Earlier this week the chancellor, George Osborne, said it was vital that families saw the benefit of falling oil prices - at the petrol pumps, in heating costs, and on airfares.
However fuel prices are determined more by taxes than by the cost of oil.
According to the RAC, if a tank of petrol costs £61, VAT and fuel duty account for £41.