Tesco to close 43 stores despite better Christmas sales
By Joe Miller
Business reporter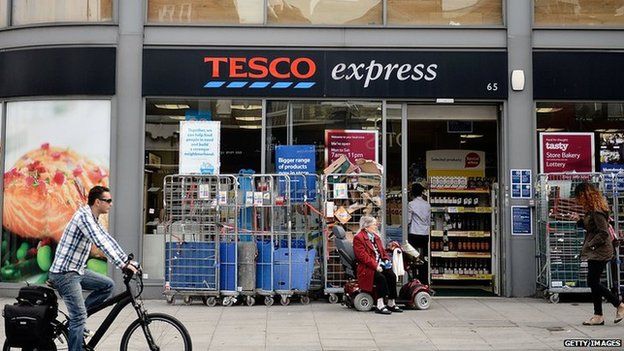 The beleaguered supermarket Tesco has said it will close 43 unprofitable stores across the UK - more than half of which will be local convenience shops, known as Tesco Express.
The firm is also shelving plans to open a further 49 new "very large" stores.
Additionally, Tesco is closing its staff pension scheme, will make cuts of £250m, and reduce overheads by 30%.
It comes after two years of troubles at Tesco, which has suffered falling sales and profit warnings.
We have some very difficult changes to make... we are facing the reality of the situation
REUTERS
In another development, credit rating agency Moody's downgraded Tesco's rating by one notch to Ba1, equivalent to "junk" status. It was the first of the major agencies to do so.
'Listening to our customers'
Last year, the company was embroiled in an accounting scandal, and saw the departure of some senior executives.
However the retail giant, which has more than 3,300 stores in the UK, had a better Christmas than expected.
Overall, comparable sales for the three months to the beginning of January were down by 2.9%.
In the previous three months, sales had dropped by 5.4%.
Tesco's chief executive, Dave Lewis, said the firm was "facing the reality of the situation" and was "seeing the benefits of listening to our customers".
Tesco also confirmed that two of its businesses - Tesco Broadband and online entertainment service Blinkbox movies, will be sold to TalkTalk.
It also announced that Matt Davies, the boss of Halfords Group, will take charge of Tesco's operations in the UK and Republic of Ireland from June, and that Trevor Masters will become international chief executive. Halford's shares dropped on the news that it was to lose its boss to Tesco.
Troubled Tesco
43
unprofitable stores to be closed
£250m of cost cuts planned

49 planned new stores to be cancelled

0.3% fall in like-for-like store sales over the six-week Christmas period
PA
Analysis: Kamal Ahmed, BBC business editor
Mr Lewis will want to be cautious. The last place a supermarket wants to be is trapped on the wrong side of a trend when it comes to whether it should be opening or closing stores.
Planning and building supermarkets can take years. With the economy improving and real incomes becoming slightly healthier, some believe that in-store shopping could return.
Store openings are still a vital route to gaining new customers. Aldi and Lidl are opening shops as fast as they can find the sites.
Sales at the retail giant improved in the six week Christmas period, with grocery shopping up almost 13% on last year, and online clothing sales growing by more than 50%.
The firm confirmed it would not be paying a final dividend to shareholders for 2014-15.
"Finally, we are witnessing the beginning of the Tesco fightback," said John Ibbotson, director of retail consultants, Retail Vision.
"Previous management lacked the bottle to do what needed to be done. [Tesco chief executive Dave] Lewis, it would seem, has bottle aplenty. He has taken some tough decisions."
Also among the cost-cutting measures announced on Thursday were plans to close Tesco's longstanding headquarters in Cheshunt, Hertfordshire, and move its main offices to Welwyn Garden City.
The firm also said it was looking to sell Dunnhumby, the data business behind Tesco's Clubcard scheme, although the scheme itself will remain in place.
New supermarkets in Bridgwater, Somerset, and Mablethorpe and Sleaford in Lincolnshire have also been abandoned.
In total, the scrapped developments equate to more than two million square feet of retail space - although Tesco has not yet released an official list of all the sites affected.
No details were given on the number of job losses expected, but Mr Lewis said the company would "start at the top and work down" and told the BBC that he wants to protect "customer-facing staff".
The Unite union said it was "extremely concerned over Tesco's conduct and the job security of over 2,000 members", and that it was seeking an "urgent meeting with management to discuss their future".
Mr Lewis added that he was "not at all comfortable with some of the scenes" witnessed in Tesco stores on Black Friday, when fights broke out between bargain hunters.