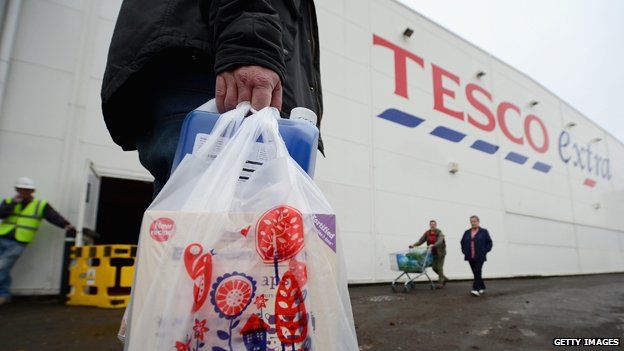 Well, Dave Lewis will have a slightly bouncier spring in his step this morning. He was known as Drastic Dave at Unilever for his cost cutting zeal - it seems his approach will be similar at Tesco.
The chief executive's £250m cost-cutting programme at Tesco - which has a bloated central bureaucracy - will be welcomed by investors, despite the scrapping of the end-of-year dividend.
Job losses will follow, although we do not know yet how many.
So, it's a start. And for retailers brought up on an era, three decades long, where growth was the only game in town, do not underestimate the significance of a supermarket chain closing stores.
But it is relatively small scale. Tesco has more than 3,700 stores in the UK.
Mr Lewis will want to be cautious. The last place a supermarket wants to be is trapped on the wrong side of a trend when it comes to whether it should be opening or closing stores.
Planning and building supermarkets can take years. With the economy improving and real incomes becoming slightly healthier, some believe that in-store shopping could return.
Store openings are still a vital route to gaining new customers. Aldi and Lidl are opening shops as fast as they can find the sites.
Tesco, Asda and Sainsbury are finally starting to reveal their strategy against the rapid rise of the discounters.
Each has announced general price cuts in branded goods, the very products that Aldi and Lidl pride themselves on not selling as many of.
The discounters are making their name with own-product lines, often a third cheaper than the price of branded competitors.
To compete, the established retailers are making themselves the "home of brands" - cutting prices on branded goods and ridding themselves of tricksy "two-for-one" promotions which customers have come to distrust.
Now, what about Marks and Spencer and its "womenswear problem"? Well, Marc Bolland, the chief executive, is still in explanation mode.
Clothing has yet to turnaround and until it does, M&S cannot sensibly say it is in full recovery. Yes, the warm weather this winter has had an effect (M&S has a major market share in cold weather wear) but after so much investment and marketing on its fashion offer, sales down nearly 6% is bad news.
M&S's new distribution centre at Castle Donington struggled, particularly under the pressure of a frenzied Black Friday.
And the new online service - where sales are also down - still has a long way to go.
M&S has clearly struggled with execution. Mr Bolland's sell to investors is that he is protecting profit margins, which he is, with fewer promotions.
But at some point he has to turn around those sales figures in the vital womenswear sector. We are still waiting.