First-time buyers at highest level since 2007, says Halifax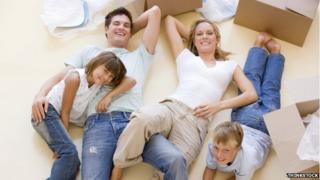 The number of first-time buyers in 2014 rose to its highest level in seven years, according to one of the UK's largest lenders.
The Halifax estimates that 326,500 people bought their first house or flat last year - a rise of 22% compared to 2013.
That was the highest total since 2007, at the start of the financial crisis.
The main reason was cheap mortgage rates, and government schemes like Help to Buy, which require small deposits.
Better job prospects may also have helped.
"Improving economic conditions and rising employment levels have boosted confidence among those thinking about getting on to the housing ladder for the first time," said Craig McKinlay, mortgages director at the Halifax.
Affordability
Even though house prices rose significantly last year, first-time buyers still found homes more affordable.
That is largely because mortgage rates fell.
The Halifax said the size of the average deposit also dropped by 7% during the year.
In 2014, first-time buyers typically had to find a down-payment of £29,218 - compared with £31,582 the year before.
And they spent a smaller proportion of their income on the mortgage than in previous years, thanks to lower borrowing rates.
In the third quarter of 2014, first-time buyers were spending an average of 32% of their disposable incomes on paying the mortgage, according to the Halifax.
That compares to 50% of their incomes back in 2007.
Help to Buy
However, prices themselves went up.
The average first-time buyer paid £171,870 in 2014, a 9% rise on the previous year.
House prices as a whole rose by 8.5% last year, according to the Halifax's figures.
About 80% of those taking advantage of the government's Help to Buy scheme are purchasing their first property.
Help to Buy enables people to put down a deposit for as little as 5% of the selling price.
House price calculator
Use our calculator to see where you can afford to rent or buy
---
Did you buy your first home this year? Are you still trying to buy? What are your experiences? You can get in touch by emailing haveyoursay@bbc.co.uk.
Please include a telephone number if you are willing to be contacted by a BBC journalist.