Further fuel price cuts bring £1 a litre within sight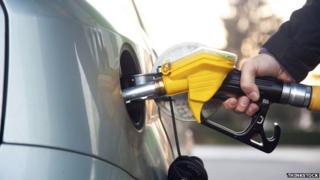 All four big supermarkets have announced that further fuel price cuts will take effect this week, bringing petrol ever closer to £1 a litre.
Tesco, Morrisons, Sainsbury's and Asda are all reducing prices by 2p a litre on both petrol and diesel.
Tesco's price reduction will take effect immediately, while the others will cut prices on Tuesday.
It follows the recent halving of the oil price, with Brent Crude now costing less than $55 a barrel.
Six months ago it cost $115.
Asda said motorists will pay no more than 105.7p a litre for petrol, or 112.7p a litre for diesel.
The RAC has previously predicted that prices could get as low as £1 a litre.
"The cuts are bringing us ever closer to the £1-per-litre average for petrol," said Simon Williams of the RAC.
"Of course it would also be an extremely welcome move for motorists and businesses alike."
Fuel prices are now at their lowest for five years.
But the AA warned that motorists in rural areas are seeing smaller reductions.
"Small rural towns are again being left behind by the price falls in the more competitive areas," said Edmund King president of the AA.