Start preparing your finances for next Christmas
By Victoria Fritz
Business reporter, BBC News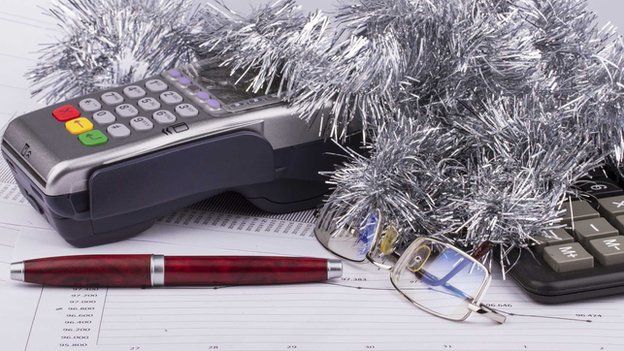 For many people, the post-Christmas financial squeeze began after just a few hours, advisers say.
The Money Advice Trust says three times as many clients received advice through its National Debtline service on Boxing Day than on the same day a year earlier.
Joanna Elson, the Trust's chief executive, says that the fact so many people went straight online for advice on 26 December is a sign of how fragile many households feel their finances are, going into 2015.
Yet - after the experience of recent festivities - many are considering how to save up for Christmas 2015.
"You might be tempted to go into debt to pay for Christmas. By starting to save now you're much more likely to not have to stretch yourself and to be able to have that special Christmas," says Nick Hill, from the government-backed Money Advice Service.
Spreading the cost of Christmas across the whole of the year lessens the strain at the end of the year when other bills, such as gas and electricity, tend to rise. Even a small amount can make a big difference, Mr Hill says. A saving of £3 a day would add up to £1,095 by the end of the year.
"My top tip is to get a snapshot of your budget. Do a money detox. See where your money is going and see if it makes sense for you now. Look at your direct debits, look at your standing orders - see if they are still offering you good value for money and if they don't, cancel them," he says.
Some 23% of those polled by the Money Advice Trust are resolved to start saving for next Christmas earlier in the year.
Their options include bank savings accounts. Some accounts let their customers set up a separate pot for a savings goal.
Cash Isas are worth considering when saving for Christmas or another big event, experts say. Account holders are paid interest and Isas are tax-free.
Saving in a bank, building society or credit union also has protection for up to £85,000 per person, per institution under the Financial Services Compensation Scheme (FSCS).
In the last couple of years Christmas savings clubs have been experiencing something of a revival. When Farepak collapsed, many people stopped saving in them, but they have been picking up again.
The schemes return savings in December in the form of vouchers, store credit or gift cards. However, they are not regulated in the same way as bank and building society accounts.
There is a Christmas Prepayment Association, which has a code of conduct that states that customers' money must be ringfenced in a trustee account. The code is not set up by the government or the financial regulator but 50% of its trustees are independent. However, not all schemes have to sign up to it.
If a Christmas club goes out of business, savers may lose all of the money they put into it.
However, the Post Office scheme is offered by the Bank of Ireland, which means that money in its Christmas savings scheme is protected by the Irish Republic's deposit protection scheme, up to a limit of 100,000 euros (£78,000).
Some credit unions offer schemes that work in the same way as other Christmas clubs. The difference is that credit unions are protected by the FSCS.
There are estimated to be more than 1.15m people who are members of credit unions in Britain, according to trade body ABCUL. Savings held in credit unions surpassed the £1bn mark for the first time in 2014.
Lucky Chandrasekera is the general manager of the London Mutual Credit Union in Peckham, south London. Membership of his credit union has grown 15% in the last year. He says members are putting £75 a month into the Christmas club on average.
"We know Christmas is the most expensive time of the year. They want to spread that cost throughout the year so they come and save small amounts of money," he says.
Mr Chandrasekera believes credit union membership appeals to families.
"When a child is born among our members, the parents come and open a credit union account straightaway. They start saving small amounts but the pot soon builds up. We offer 5% interest rates for the junior savers so it is very popular among our membership," he says.
David Marshall has been a member of the credit union for eight years. Over that time he has used the union to deposit savings as well as take out a number of loans. He has seen the union change considerably over the time in which he has been a member.
"I've seen them become more organised. There are more people coming in. I've been putting the word out to family and friends to tell them that the credit union has helped me out," he says.
"I found this last year quite hectic. The year before I didn't have much of a chance of buying, especially for my grandchildren, the dream presents that they wanted. So this year I'm going to start saving around April or May."
Many supermarkets offer Christmas savings schemes. Some offer bonuses equivalent to 4-6.5%, which outstrip returns from standard savings accounts.
However, there are restrictions. Firstly, savers are tied to spending the money with only one retailer. In the majority of cases, if a card is lost, stolen or damaged, it is like losing cash from a wallet - it is all lost.
Generally, money is not ringfenced or protected in any way. Although it is unlikely that supermarkets would go bust, the retailers are not obliged to keep money separate.
However, the Co-operative supermarket Christmas savings club keeps money in a separate, ring-fenced trust account.
Related Internet Links
The BBC is not responsible for the content of external sites.