Markit: UK manufacturing growth hits three-month low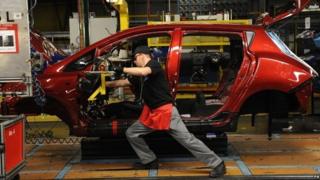 Growth in manufacturing activity in the UK hit a three-month low in December, a survey has suggested.
The Markit/CIPS Purchasing Managers' Index was at 52.5 for the month, compared with 53.3 in both October and November. A figure above 50 suggests that the sector is growing.
However, overall UK manufacturing activity was strong in 2014, it said.
Separately, manufacturing growth in the eurozone was close to stagnation in December, Markit added.
"The latest survey provides further evidence of the ongoing slowdown in the UK manufacturing sector, with output and new order growth easing to their second-weakest rates during the past year-and-a-half." said Markit senior economist Rob Dobson.
"The main weak spot remains exports, with overseas new order inflows stagnating amid weaker economic growth in key markets and the ongoing lethargy of the euro area," he added.
Despite the slowdown in activity, 2014 remained a strong year for UK manufacturing, Mr Dobson said.
"The positives to come out of the December readings are the continued growth, further solid increases to workforce numbers, a supportive domestic market that is driving new contract wins and the broad-base of the upturn across the consumer, intermediate and investment goods industries," he said.
In addition, UK manufacturing employment rose for the 20th month in a row during December.
Eurozone 'stagnation'
Manufacturing growth in the eurozone was "near-stagnant" in December, with a final reading of 50.6, Markit said
December saw the slowest output growth for a year-and-a-half.
Meanwhile, the average eurozone reading for the final quarter of 2014, 50.4, indicated the worst growth in the sector for more than a year.
"Eurozone factory activity more or less stagnated again in December, rounding off a year which saw an initial, promising-looking upturn fade away and stall in the second half of the year," said Chris Williamson, chief economist at Markit.
"The weakness of factory output, combined with the subdued service sector growth signalled by the flash PMI, suggests the eurozone economy grew by just 0.1% in the fourth quarter."
The crisis in Ukraine and faltering confidence in the ability of policymakers to revive the area's economy seem to have prompted companies to become more risk averse and to pull back on expansion plans, Mr Williamson added.
Correction 14 January 2015: The headline on this report has been changed to clarify that the figures refer to growth in manufacturing activity.