Cards for thousands of centenarians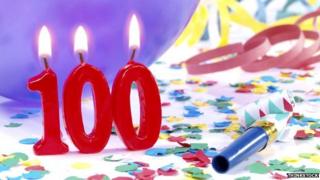 More than 7,500 people in the UK received congratulatory cards from the Queen for reaching ages of 100 or more in 2014, figures show.
A team at the Department for Work and Pensions (DWP) traces the details of people who qualify for the card by hitting 100, 105 or any age thereafter.
They forwarded details of 7,517 people to Buckingham Palace.
The number of centenarians in the UK has more than quadrupled in the past 30 years.
Recent figures from the Office for National Statistics found that the most common age at death in the UK was 86 for men and 89 for women.
A newborn baby boy could expect to live to 78.9, and a girl to 82.7, if mortality rates stayed at the 2011-13 rates throughout their lives.
The DWP said that women reaching 100 this year would have started receiving the state pension in 1974, when it amounted to £10 a week.
Men reaching 100 in 2014 will have hit state pension age in 1979, when it was £23.30.
The cost of living has risen since, and the basic state pension now stands at £113.10 and will rise to £115.95 from April 2015.