City Link: RMT demands government talks over collapse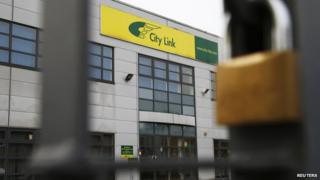 A union has demanded "urgent talks" with ministers and administrators about the collapse of the UK parcel delivery service City Link.
The jobs of more than 2,700 staff and about 1,000 contractors are at risk.
The government says it is unable to intervene in the administration process, although the business secretary said he would meet the union in the New Year.
The RMT union says it believes City Link is a viable business concern.
There is a strong case for government intervention and possibly a rescue package, it said.
City Link called in administrators Ernst & Young (E&Y) on 24 December, but an announcement was not made to the media until Christmas Day.
Some City Link employees said they only found out about the move when they were at home and saw it on the news.
'Dreadful timing'
Founded in 1969, City Link was acquired by restructuring specialist Better Capital in April 2013. It invested £40m but E&Y said City Link had incurred substantial losses over several years and the money could not help it turn the firm around.
Mick Cash, the general secretary of the RMT union, said the "disgraceful timing of the City Link announcement at the start of the festive season must not be allowed to delay and hamper efforts to rescue the jobs".
"Not only was it the most brutal and callous way to treat nearly 3,000 staff but RMT believes there may have been more cynical motives behind it which we want the government to investigate," he added.
He said RMT wanted meetings with both the administrators and Business Secretary Vince Cable.
In an open letter to Mr Cable, the union said it wanted the government to examine the timing of the announcement "to establish what the real motives of this decision are".
It also urged the government to examine "what we believe may have been a restructuring just prior to the collapse into administration which may have moved the valuable property assets out into a separate company."
Speaking on BBC Radio 4's Today programme, Mr Cash suggested Better Capital had not allowed City Link to develop and should have taken a more long-term view.
Better Capital says it cannot respond while the stock market is closed.
But a source connected to the investment firm told BBC Radio 4's World At One programme while it very much regretted City Link had fallen into administration, very little could have been done to change its fate. The delivery sector had become too competitive and prices were being squeezed.
The source acknowledged City Link had made some errors in that it "did not offer a first-class service or an IT system to boot."
On the question of asset stripping, the source said: "If we are asset strippers we are pretty bad at it as our accounts will show."
'Ready to engage'
Labour MP Ann McKechin, a member of the Business Select Committee, said the government "should offer any help that is required" to see if any City Links jobs could be saved.
She added that the government should be "making very clear its dissatisfaction" about the timing of the announcement.
And shadow business secretary Chuka Umunna said on Twitter that it was "inexcusably cruel" to allow things to reach this point at this time.
Mr Cable said in a statement: "This is a bitter blow to the workforce, many of whom have served the company loyally and now face huge uncertainty over Christmas.
"I have asked my officials to be kept abreast of any developments in this case and I will happily meet the union in the New Year."
City Link has stopped accepting parcels from customers at its head office and transport hub in Coventry, where 404 people are employed, its three other transport hubs and 53 UK depots.
These include Basingstoke, Belfast, Bristol, Cardiff, Carlisle, Edinburgh, Hatfield, Heathrow, Lincoln, London, Milton Keynes, Manchester, Newcastle, Norwich, Nottingham, Plymouth and Warrington.
Operations will be suspended at its depots until Monday, when customers and recipients will be able to collect parcels - which they have been urged to do as soon as possible.
The firm's online parcel tracking system remains live and a phone helpline will be open on Saturday and then from 29 December.
City Link employees and subcontractors have been expressing their anger and frustration at the developments.
A subcontractor from Fife told the BBC: "I'm totally and utterly gutted. This has happened after they spent money on new uniforms and new scanners.
"Everyone thought we had turned a corner and things would be getting a lot better, but obviously not".
| City Link employees | |
| --- | --- |
| Location | Total employees |
| Aberdeen | 19 |
| Ashford | 24 |
| Bangor | 16 |
| Basingstoke | 25 |
| Beckenham | 23 |
| Beckton | 32 |
| Belfast | 23 |
| Bicester | 28 |
| Birmingham | 70 |
| Bournemouth | 32 |
| Bristol | 50 |
| Cardiff | 44 |
| Carlisle | 28 |
| Chelmsford | 48 |
| Coventry | 404 |
| Cowes | 4 |
| Durham | 56 |
| Edinburgh | 22 |
| Edmonton | 36 |
| Epsom | 22 |
| Exeter | 41 |
| Gatwick | 42 |
| Glasgow | 75 |
| Glenrothes | 22 |
| Gloucester | 32 |
| Guildford | 24 |
| Hatfield | 116 |
| Heathrow | 132 |
| Leeds | 1 |
| Leeming | 34 |
| Leicester | 1 |
| Lincoln | 25 |
| London City | 19 |
| London West Central | 43 |
| Maidstone | 48 |
| Manchester | 67 |
| Milton Keynes | 91 |
| Morley | 74 |
| Motherwell | 27 |
| Newcastle | 45 |
| Newmarket | 1 |
| Northampton | 47 |
| Norwich | 44 |
| Nottingham | 48 |
| Peterborough | 63 |
| Plymouth | 58 |
| Preston | 52 |
| Reading | 2 |
| Rotherham | 34 |
| Scunthorpe | 28 |
| Shrewsbury | 38 |
| Southampton | 33 |
| Stafford | 40 |
| Swansea | 30 |
| Swindon | 73 |
| Warrington | 115 |
| West Bromwich | 56 |