Italian government steps in to save Ilva steel plant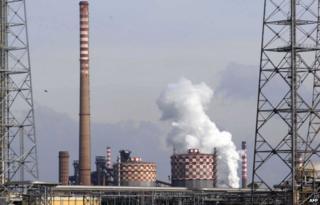 The Italian government is intervening in the management of Europe's biggest steel plant, in an attempt to reform the beleaguered business.
A commissioner will be appointed to manage the site in Taranto and could have the task of preparing its sale.
Ilva, which is a major employer in southern Italy, has faced criticisms over its environmental record.
Toxic emissions from the Ilva plant have been blamed for unusually high rates of cancer in the area.
The privately-owned plant, Europe's biggest in terms of output capacity, employs at least 14,000 people. Ilva has been making a loss for years and was placed in special administration last year.
Italy's Prime Minister Matteo Renzi also committed the government to clearing up the polluted areas surrounding the plant, in order to protect children in Taranto, the coastal town in which Ilva is based.
The European Commission said in October that the Tamburi area of the town in particular was contaminated and urged the government to take action.
Mr Renzi said that the government would consider nationalising the plant and selling it on, if a buyer could be found who promised to protect jobs.
"I forecast maximum state intervention of 36 months to clean up Ilva and relaunch it," he told reporters.
The international steel giant ArcellorMittal has reportedly expressed an interest in acquiring Ilva.
The plant, owned by the Riva family, was partially closed in 2012 because of the high levels of pollution.