BAE wins $1.2bn US combat vehicles contract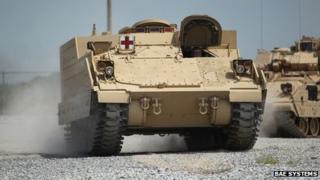 Defence giant BAE Systems is to supply the US Army with a fleet of armoured combat vehicles, in a contract reportedly worth up to $1.2bn (£770m).
The new Armoured Multi-Purposed Vehicles (AMPVs) will replace models that date back to the Vietnam War.
BAE said it would immediately begin production of 29 vehicles, with a further 289 to be built thereafter.
BAE, which is among the world's largest defence contractors, is the biggest foreign military supplier to the US.
Work on the AMPVs will take place primarily at BAE sites in York, Pennsylvania, and Sterling Heights, Michigan.
In October, BAE announced it would cut 440 management jobs across the UK, more than half of which were in Lancashire.
Earlier in the year, the company ended its shipbuilding operations in Portsmouth, after the Hampshire yard's final project - a giant section of the UK navy's new aircraft carrier - was completed.