Air China buys 60 Boeing aircraft for $6bn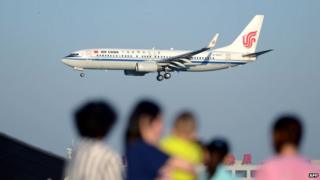 China's national airline, Air China, is to buy 60 Boeing 737 aircraft in a deal worth more than $6bn (£3.8bn) at list prices.
The aircraft will be delivered between 2016 and 2020, according to a regulatory filing by the airline.
The deal includes Boeing's "next generation" 737 and 737 MAX aircraft, known for their fuel efficiency.
In September, the world's biggest aircraft maker delivered the first of its seven 747-8 aircraft to Air China.
"We are excited to see that the 737 family will play a significant role in Air China's continued success," said Ihssane Mounir, Boeing's Northeast Asia vice president of sales and marketing in a statement.
In October, rival Airbus announced plans to open a second manufacturing plant in China in an attempt to boost sales of its A330 jetliner in the world's fastest growing aviation market.
Boeing, meanwhile, said in September that China would need more than 6,000 aircraft in the next 20 years as the leisure travel market booms in the world's second largest economy.