Online food shoppers hit by technical problems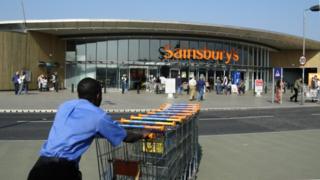 Hundreds of online supermarket shoppers have been experiencing frustrating technical problems amid the rush for Christmas.
Some Sainsbury's customers found orders were wrongly cancelled after a computer failure on Sunday evening.
Asda also reported technical difficulties, and Waitrose too has apologised for a temporary fault.
In the meantime, scores of customers took to Twitter to express their frustration.
After problems with the Sainsbury's website, Jenny Grasham-Whalley, from Sutton Coldfield in the West Midlands, was offered an alternative delivery date for her Christmas shopping on 27th December.
"That date is about as useful as a chocolate teapot," she told the BBC.
However both Sainsbury's and Waitrose subsequently promised to fulfil all orders in time for Christmas.
Ms Grasham-Whalley said she was offered a £50 voucher as an apology.
'Systems fault'
Sainsbury's said the website "went down" for half an hour on Sunday night, but is now running as normal.
"We experienced a brief technical issue with our website last night, which has now been fixed," said a Sainsbury's spokesperson.
"Some customers experienced difficulties with booking or amending their delivery slot. We're very sorry for the inconvenience caused."
The company said measures had been taken to ensure the problem does not happen again.
Asda said that a "handful of customers had experienced technical difficulties", but insisted that its website had not crashed.
Waitrose said it had a "systems fault" with picking orders, caused by an IT problem.
As a result there had been a delay to some customers' orders.
Deliveries
Earlier this month, Marks and Spencer and courier firm Yodel warned of delivery delays after they were overwhelmed by orders.
Marks and Spencer had problems with a new distribution centre, and warned that deliveries to customers could take up to 10 days, instead of the usual three to five.
Yodel - previously known as Home Delivery Network - had to suspend collections, and admitted that some parcel deliveries were taking up to eight days.