Bonuses for senior City workers to rise, survey says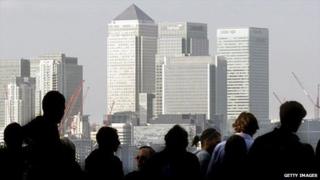 Senior workers in London's financial services sector are expecting an average 21% rise in their bonus payouts for this year, a survey found.
The increase would take the average bonus to £124,680, according to recruitment firm Astbury Marsden, which surveyed 1,500 senior City staff.
Adam Jackson, a director at the firm, said rising confidence was translated into rising bonus expectations.
The increase comes despite political and public pressure to curb bonuses.
"Business conditions in the City have improved significantly over the last year," Mr Jackson said.
"Despite shareholder and public pressure to limit bonuses and with the EU bonus cap now set to be introduced at the start of 2015, City staff clearly feel that their employers are in the position to reward them well."
Change jobs?
The European Union is introducing a new law that limits a bonus to no more than 100% of a banker's fixed salary, or twice that level with shareholder approval.
Astbury Marsden's survey found that staff working in private equity investing are expecting the highest bonuses in 2014, well ahead of other sections of the City.
Staff working in private equity expect an average bonus of £145,625, which would be 115% of their average salary.
The survey also found that more than half of the employees who responded said they would change roles if they were not happy with the bonus they received.
Some 54% of respondents said they would change their jobs and move to a different employer as a result of a poor bonus, compared to 45% who said the same thing in 2013.
This was the highest proportion since the survey began, reflecting growing confidence in the City jobs market.