Can Zambia's crumbling Kariba Dam provide power for all?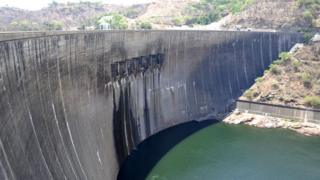 The Zambezi River winds its way through six countries in Africa, starting in north-western Zambia and finishing in the Indian Ocean.
For years the people living along its banks have depended on it for their survival and have harnessed its great power for electricity.
The Kariba Dam was the first to be built on the river and is one of the largest in the world.
It sits in a gorge between Zambia and Zimbabwe and is something of a tourist attraction, with visitors marvelling at its size and distinctive curves.
Upstream of the dam, man-made Lake Kariba sparkles invitingly in the hot African sun. On the downstream side you can peer down the vertigo-inducing 128m dam wall.
It supplies the two countries with over 1,600 megawatts (MW) of electricity and an expansion on the Zimbabwean side is under way.
Grand old dam
But there is a problem - this 55-year-old structure is starting to show its age.
The plunge pool downstream of the dam wall is threatening to erode the foundations of the huge dam itself.
"It is an unfortunate and serious prospect," says Partson Mbiriri, chairman of the Zambezi River Authority.
If the wall were to fail then some 3.5 million people could be flooded downstream, leading to a significant loss of life and livelihoods.
This is unlikely to happen though, as the authorities have secured $100m (£64m) from the global community to shore up the dam's defences.
In fact, the day we visit the dam Mr Mbiriri is escorting a convoy of high-profile representatives from the World Bank, the EU, and other Western countries around the site.
He believes the problems facing the dam should serve as a warning to African leaders who are looking for clean sources of electricity to combat energy poverty.
Devastating drought
There are a number of hydro projects that are under way on the continent.
The most famous, perhaps, is the Grand Inga Dam in the Democratic Republic of Congo, but there are also plans to build in Ghana, Kenya, Senegal and Mozambique.
But whilst these countries hope to harness nature, it is possible that nature itself will have other ideas.
"It needs to be pointed out that given climate change there are moments when we are unable to generate electricity because water was too low," says Mr Mbiriri.
In 1992, Zambia was affected by a devastating drought. The lack of rainfall meant Kariba could not produce any electricity - schools, hospitals and businesses struggled to get power.
Twenty-two years on and climate change is only making life harder for many Zambians, particularly farmers.
The rainfall pattern is changing - many believe the rains are late this year - and they say temperatures are rising.
All this makes people like Mr Mbiriri believe that alternative sources of energy need to be found.
"It's equally important to think about solar - on the assumption, of course, that we'll continue to have sunshine."
'It's making me sad'
There is no shortage of sunshine the day we visit Kariba. It is so hot that it is impossible to place your elbows on the side of the dam wall.
For the people living in a small village just a few minutes' drive from the lake, the sun is a bother rather than a blessing.
Most of them sit or lie quietly in the shade, but a couple of young men play pool on the verandah of a small breeze block building.
It looks like it is the social hub of the village and is framed by large power lines that run overhead.
But the villagers say they cannot afford to pay for that electricity.
"We need each and every house to have electricity and water," says Genesis, who has lived in the village for four years. "These things are not there - and this area's too hot. So it's making me sad."
He moved down south from Zambia's capital Lusaka and says that if the energy tariffs were lower they would not be so poor.
"If we had enough electricity in this area then we'd have enough shops, industries and some kind of way of using electricity."
More investment
The Zambian government realises it has a problem.
The deputy energy minister, Charles Zulu, recently admitted at a conference that only about 25% of the country has access to electricity.
He was quoted in a local newspaper as saying: "The best analogy of our situation is an environment of low access to electricity amid plenty."
So the government is hoping it can entice private investors to take part in the expansion of the energy sector.
They are looking at geothermal and coal, as well as upgrading hydropower stations elsewhere in the country.
That would not only help combat the frequent power shortages, but also place less reliance on the output from the Kariba Dam.
Will other countries follow?
It is something that other African countries are keen to do as well.
South Africa, the continent's most advanced economy, is undergoing a severe power crisis.
No new power stations have been built since the end of apartheid in 1994.
The government there also wants to introduce renewables into its energy mix.
What is clear for all involved is that you cannot grow your economy until everyone, even in the smallest village, has access to affordable and reliable energy.