How to spot a fake at Christmas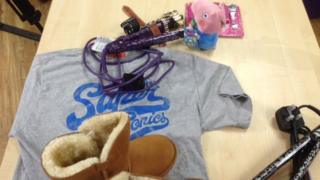 The temptation to buy a designer handbag or a luxury aftershave at a bargain price is high during the Christmas period.
But even if they do feel and smell uncannily like the real deal, experts say it is worth doing all the necessary checks to avoid counterfeit products.
Shoppers are being warned that a wave of counterfeit goods is flooding the market during the festive season.
The Trading Standards Institute (TSI) says that where there is a product to be sold and a profit to be made, someone, somewhere, is making a counterfeit version of that product.
Fake toys, Ugg boots, GHD hair straighteners, iPhones and iPads are among tens of thousands of counterfeit items that have been seized by trading standards officers.
These fake goods are not just inferior to the genuine ones, they can also be very dangerous, the TSI says.
---
How do you spot a fake good?
Look for a trademark. By law, toy packaging must display this, as well as the name and address of the manufacturer or importer, the type, batch, warnings and instructions and model or serial number. If any of this is missing you could be looking at a fake toy
Product: But be aware that a CE marking is a self-declaration by manufacturers saying they have respected their safety obligation - not an independent stamp of approval
Packaging: Check for spelling mistakes on the box and tatty-looking packaging. Counterfeits can also copy the above safety marks so take a close look to see if they look real
Place: Only buy toys from trustworthy shops and outlets
Price: If the price is too good to be true, it could be a fake
Source: TSI
---
Consumers in Britain spend £90m a year on counterfeit goods, according to the TSI. In 2013-14, customs officials detained 21,000 consignments of fake goods at UK borders.
While people may be happy with a cheap fake, the TSI warns that consumers should be wary of their potentially frightening and sometimes fatal consequences.
"One of the popular gifts for children this Christmas is a Loom Bands pack. A fake pack is especially dangerous because of the materials they are made from. They can contain chemicals that cause cancer and infertility," says Ivy Hughes, of the TSI.
Counterfeit make-up can contain elements such as lead, copper, mercury, arsenic or cadmium, which can lead to swelling, rashes and poisoning, she adds.
Fake alcohol has been found with traces of methanol, antifreeze and fuel, which can cause everything from nausea to stomach pains to coma and death.
Missing and poor-quality components in counterfeit electrical goods can lead to electric shocks, fires and explosions, while fake children's toys and clothes can pose hazards through dangerous small parts, long cords or from toxic materials.
It is also very hard to get money back, once a counterfeit good has been bought, says Steve Lynch, a TSI officer in Chelmsford.
"It is easy to be tricked into thinking you're getting a bargain, but if something appears too good to be true it probably is," he says.
"You could go back to the seller and argue under the Sale of Goods Act that you're entitled to your money back. But unfortunately most people find the market stalls are gone and they're stuck with what they bought," Mr Lynch said.
The TSI says that it is increasingly important for shoppers to be vigilant, particularly as government cuts in the last four years have reduced the number of trading standards officers.