Bank fine improves public borrowing in November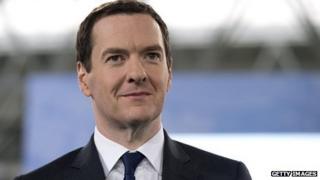 A bank fine of £1.1bn for manipulating the currency markets has helped government borrowing figures in November, official figures show.
Public sector net borrowing stood at £14.1bn, down 10% from 2013, the Office for National Statistics said.
Between April and November public borrowing was £75.8bn, 0.6% less than last year.
However, analysts said it would still be difficult for the Chancellor to meet his deficit target for the year.
Earlier this month, the Office for Budget Responsibility (OBR) raised its borrowing forecast for the current financial year from £86.4bn to £91.3bn as a result of a surprisingly low tax take, although the new higher figure is still below last year's total of £97.5bn.
Tax revenue is expected to improve in January, the month that self-assessment tax forms are returned.
This January is expected to be particularly strong because some high earners are likely to have deferred their bonuses to this year, to take advantage of a recent cut to the highest rate of income tax.
'Disappointingly slow'
"This is an encouraging set of figures," said Samuel Tombs from Capital Economics.
"Not only was borrowing lower in November, but borrowing for the first eight months of the year was also revised down.
"However, it still looks difficult for the government to meet the OBR's deficit target, since the remaining four months of the financial year will need to be 27% lower than last year.
"Even taking into account strong receipts in January, that will be difficult."
He added that pace at which the deficit was falling was "disappointingly slow given the strength of the economic recovery" and that he doubted that the recovery would be as tax-rich as the OBR expected.
"The road to fiscal sustainability looks set to be long and bumpy," he concluded.
HSBC, Royal Bank of Scotland, Swiss bank UBS and US banks JP Morgan Chase, Citibank and Bank of America were all fined by UK and US regulators for their attempts to manipulate foreign exchange rates.
The money has been earmarked for the NHS's budget.