North Sea oil collapse fears 'too dramatic'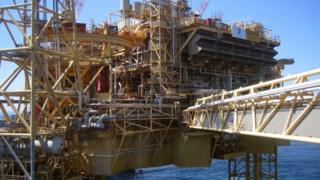 A leading figure in the UK's oil industry, Sir Ian Wood, has told the BBC warnings the industry is close to collapse are "well over the top and far too dramatic".
Sir Ian, a veteran oil man who was commissioned by the government to review the industry, said conditions would begin to recover next year.
A 50% fall in the price of oil below $60 a barrel has prompted a spate of warnings from industry insiders.
Sir Ian did concede jobs would be lost.
In fact, last week he predicted a wave of job losses in the North Sea over the next 18 months.
This morning he told BBC 5live an oil price of around $60-$65 a barrel over the next 18 months could prompt job losses of up to 10% in the UK oil industry, although he thinks it is more likely to be 5%.
Around 375,000 people work in the UK oil industry and half of those are in north east Scotland.
Sir Ian says that investment plans are made a few years in advance, so the impact will not be immediate.
Doom
On Thursday, Robin Allan, chairman of the independent explorers' association Brindex, told the BBC that the industry was in "crisis".
A host of companies has already cut or frozen pay, or cut jobs.
Those shedding posts include ConocoPhillips and Texas-based oilfield services company Schlumberger, although, as if to prove Sir Ian's point that the picture is not all doom and gloom, the latter is reported to have secured a new contract with Statoil in the Shetland area.
Mr Allan, a director of Premier Oil, said almost no new projects in the North Sea are profitable with oil below $60 a barrel.
Leading oil research company, Wood Mackenzie, said that, at that price, only three of the top 40 international oil companies generate sufficient free cash flow to cover spending, including distributions to shareholders.
The price of oil is notoriously volatile, relying on supply, demand and sentiment among traders who are natural speculators.
Also on Thursday the Saudi oil minister, Ali al-Naimi, said the oil price fall was "temporary".
Sir Ian's own forecast is for oil to remain at $60-65 a barrel for the next 18 months and then recover.