Wonga customer wins case over interest and fees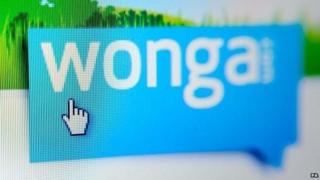 Payday lender Wonga will refund the fees and interest charged to a customer whose outstanding loan has already been written off.
In October, Wonga said it would cancel the debts of 330,000 customers after an investigation showed it had not carried out appropriate affordability checks.
One of those customers whose debt was written off has successfully claimed for charges to be cancelled too.
Ami Jarman, 24, from Hertfordshire, took her case to the ombudsman.
She had initially borrowed £100 to pay for a new car tyre but her debts soon spiralled.
"I was diagnosed with depression, which ultimately affected my work life, and my personal life," she said.
She was given loans worth £9,000 over four years, but said she ended up having to pay more than £11,000 after fees and charges were added.
"I should have been more aware of the fees and interest, but I also feel payday lenders should take more responsibility for themselves, and should not have lent me this money," she told BBC Radio 4's You and Yours.
'Relief'
Although her existing debt was wiped out by Wonga, she decided to take her case about fees to the Financial Ombudsman Service after calculating how much money she had repaid.
Caroline Wayman, chief Executive of the Financial Ombudsman Service, who looked into Ms Jarman's case said there had been unfair treatment.
"Wonga are obliged to make sure loans are affordable, and that people are aware of the fees and charges," she said.
"The Financial Conduct Authority [regulator] has been taking steps to improve this area of the lending industry, but more work needs to be done."
The ombudsman's ruling has come as a relief to Ms Jarman, a hospital care assistant, who had been borrowing from the company and many other payday lenders since 2010.
"I've got about £4,000 still outstanding with other lenders, but since hearing from the ombudsman it feels like a huge weight off my shoulders," she said.
"It is not just for me. It shows that other people who possibly have more debt than me can get their money back too."
A Wonga spokesman said discussions with the Financial Ombudsman Service about Ms Jarman's case, and how much would be repaid, were ongoing.
"We are keen that any individual in difficulty contacts us and we will do everything to resolve the situation," he said.