Aer Lingus rejects takeover bid by BA owner IAG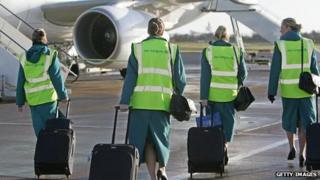 British Airways owner IAG says that the Irish carrier Aer Lingus has rejected a takeover offer.
In a statement, IAG confirmed that it had submitted an offer and that it had been rejected by Aer Lingus.
Earlier, Aer Lingus shares had jumped 14% after the Financial Times reported that IAG was considering a bid.
A deal would have given it valuable access to landing slots at Heathrow, as Aer Lingus is the third-biggest airline at the airport.
Any takeover of Aer Lingus would require the backing of Ryanair and the Irish government, as they both hold stakes in the company.
A takeover between it and IAG would also need to satisfy regulators it would not harm competition on certain routes, or give an undue advantage to IAG in terms of take off and landing slots, particularly the Heathrow ones.
IAG, which also owns Iberia and the low-cost airline Vueling, said: "[It] notes the recent movement in the share price of Aer Lingus and confirms it submitted a proposal to make an offer for the company."
It added there could be no certainty that a further proposal would be forthcoming and that another statement would be made "if and when appropriate".
Whether or not it does make a fresh approach, the news galvanised the share prices of both companies.
At the end of trading on Thursday IAG was 4.5% higher and Aer Lingus was up 9%.
Aer Lingus operates a fleet of 47 Airbus aircraft and carries more than 10.6 million passengers a year.